Conservatism in the World of Sports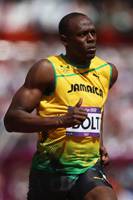 GM Transfers American Taxpayer $559 Million to bailout a Soccer Team
Disgusting. In order to put the Chevrolet logo on the front of the red jerseys of the English soccer team, Manchester United, General Motors will pay over half a BiLLION dollars. Keep in mind that GM still owes American taxpayers $42 Billions dollars. Manchester United fans have already pledged to boycott any sponsor of their team so this has to be one the stupidest ways of wasting American taxpayer dollars in history. Manchester United is reported to be in debt for $1.6 billion dollars.
We are watching a Democratic political machine utterly disrespect the people's money. November can't come soon enough!
Jamaican Usain Bolt Stops Reporter for American National Anthem
After a brilliant display of blazing speed surely seen by millions around the world, Usain Bolt, who posted an Olympic record in the 100 meter sprint, was interviewed by TVE. The Spanish network reporter seemed surprised when the Olympic champ interrupted the on field interview to direct his attention to the playing of the American national anthem.
It's very refreshing to see a world icon with the world press hanging on his every action remind the world of what is more important at times. Props to Usain Bolt, who even though is Jamaican, for a moment stood with all Americans in honoring our country.