John Cornyn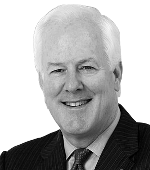 John Cornyn III has been representing Texas as a United States Senator since 2002.
During his first term in the U.S. Senate, Sen. Cornyn distinguished himself as a leader in the Senate on a variety of issues important to Texans and has earned a national reputation as an articulate and powerful voice for conservative values in Washington.
Before his work in the U.S. Senate. Cornyn served in San Antonio for six years as a district judge before being elected as a Republican in 1990 to the Texas Supreme Court. From 1999 to 2002, John Cornyn was the Texas Attorney General, the first of thus far only two Republicans to have held the position.
Cornyn was recently elected Chairman of the National Republican Senatorial Committee. Through this and his job as U.S. Senator, Cornyn is committed to bolstering our national defense, repairing our broken immigration system, improving educational opportunities for all Texans, strengthening the economy, and keeping taxes low.
Cornyn earned a B.A. in journalism from Trinity University in 1973, and then continued on to earn his J.D. from St. Mary's School of Law and his LL.M. from the University of Virginia School of Law.
Posts by John Cornyn