Texas Conservatives in Danger of Being Redistricted out of Existence - TX House and State Board of Education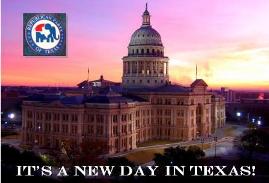 Texas Republicans had tremendous success in the 2010 election cycle taking an unprecidented 101 seats in the Texas House of Representatives and placing key conservatives on the Texas State Board of Education. We declared a proud new day as our new legislators moved into Austin. Now we are in danger of losing many of those seats as proposed redistricting maps will eliminate many of these new conservatives. We must stop this and it must stop quickly.
We have got to maintain the gains we earned in the 2010 election and not let moderates and Democrats give back some of our hard earned seats. Maintaining our legislative super-majority is critical for the 2013 Legislature and our seats like those of Charlie Garza and Terri Leo must be protected.
State Rep. Wayne Christian takes an in depth look at this issue in his latest "Legislative Update - Emergency Action Required".
Your action is needed immediately to help preserve our conservative super-majority in the House and our conservative seats on the Texas State Board of Education. Click here for contact information on the Texas House Members and Senators.