ACORN Machine is back! Target: Pasadena Republican David Pineda House District 144
This is a call to Texans who despise the ACORN political machine like I do. They are here in Pasadena, Texas trying to undermine the mission of bringing a Republican state representative to a 74% Hispanic district. This seat use to belong to the late Ken Legler for House District 144. Now, David Pineda, a former Marine who served as an Embassy Guard in Afghanistan is finding himself locked into a house to house, block to block fight against the ACORN machine.
Visiting their website, they list themselves as "community organizers." We have our own grassroots army coming together for this fight. The Federation of Hispanic Republicans have stepped up, local precinct chairs, Houston Young Republicans, the San Jacinto Republican Women, Texas Tea Party Republican Women, Village Republican Women, Republican Party of Texas via Chairman Munisteri and County Judge Ed Emmett have stepped up via the Victory Call Center. Still, we need more Republicans in the fight.
In 2009 I had my first skirmish with then ACORN. I had received word that ACORN and the SEIU were courting Houston Hispanic evangelical pastors into doing joint events in their churches. Luckily with the help of a few Republican leaders like Ed Hubbard, President of the Clear Lake Republicans, James Barnes SREC of San Antonio and myself, we were able to share Darrell Issa's Congressional investigation report on ACORN to the pastors who themselves had no idea that ACORN was actually in trouble for serious stuff. We stopped thousands of votes swinging to the Democrat side.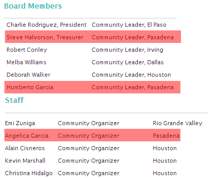 ACORN, according to media sources, has reorganized into "TOP", Texas Organizing Project. TOP is here in Pasadena, and we are battling them head on. They have a team of an estimated 150 paid operatives canvassing our district. This race is one of the hottest, most contested races. Fellow Republicans, if you are looking for a fight, a battle which allows you to directly hit ACORN (now TOP) right square in the mouth, this election for House District 144 is it. We need grassroot support, poll watchers, block walkers, phone bankers, in short we need to counter ACORN. We cannot lose this seat to ACORN and the Democrats.
Links showing ACORN renaming itself TOP:
http://www.foxnews.com/politics/2012/07/19/taxpayer-watchdog-calls-on-irs-to-probe-re-branded-texas-acorn-branch/
http://www.gopusa.com/freshink/2012/07/20/texas-acorn/
http://frontpagemag.com/2012/matthew-vadum/acorn-political-money-laundering-in-texas/
http://www.breitbart.com/Big-Government/2012/07/19/Taxpayer-Watchdog-Group-Calls-on-I-R-S-To-Investigate-Re-Branded-Texas-ACORN-Branch