A Nation in Distress - The Response - Texas Gov. Rick Perry Calls Texas into a Day of Prayer
In 1798, during a quasi war with France, America's second President John Adams called for a national day of fasting and prayer. Similarly, when Germany surrendered to the United States and her allies, President Truman called for a day of prayer as we moved our focus to defeating an enemy in Japan. Today our country is in serious economic crisis. The Response - A call for a day of fasting and prayer from Texas Governor Rick Perry.
After Gov. Perry called for this day of prayer, many people tried to say it was a cheap political stunt. Or that no one would really participate. Or that Perry didn't have the right to call such a day of prayer. Predictions from the media said that around 8,000 people would be attendance. Imagine their surprise as the 8,000 seats on the floor quickly filled.
Over the next hour or so, as religious music played, the additional 15,000 seats of the lower section filled and people began pouring into the upper section. By the time Gov. Perry took the stage, nearly 30,000 people were in attendance.
In an interesting set of circumstances, Gov. Perry took to the podium without introduction. Listen below and you will see none was needed.
They say that politics makes strange bedfellows. Perhaps religion does as well. Outside the stadium, an interesting group of athiests, gays seeking religious tolerance, and other religious activists seeking a broader separation of church and state gathered to express their displeasure.
Their numbers totalled around 50. Others attended inside the arena including Americans United for Separation of Church and State Executive Director Barry Lynn. Here is what he had to say about the event.
No matter how you want to measure it, the event was a huge success for Gov. Perry and the organizers of the event. It further demonstrated the support a Presidential Candidate Rick Perry might expect from the social conservative wing of the Republican Party.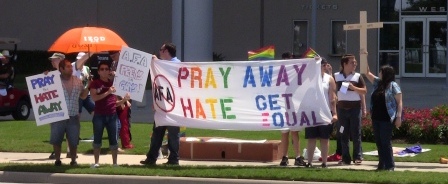 More videos from this event will be posted in days to come. Please check back from time to time.