Attorney Gloria Allred Continues to Attack Meg Whitman, Greta Van Susteren and Gloria Allred Get in a Heated Debate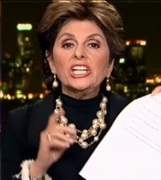 Five weeks before the election, Democrat Jerry Brown and Republican Meg Whitman are in a dead heat race for California governor. Until recently, the race was focused on job creation and state spending and education; however, with new allegations that Meg Whitman knowingly had an illegal immigrant housekeeper on her payroll for nearly a decade.
Revelations about the illegal housekeeper have also thrown Whitman's carefully managed campaign completely off track and opened the door for Democrats to accuse her of hypocrisy.
The former eBay chief executive has called for tougher sanctions against employers who hire illegal workers, and the fact that she employed an illegal immigrant maid from Mexico for nine years could undermine her credibility. She has also spent millions courting Latino voters, who could play a key role in determining the outcome of the race.
However, Whitman says she fired the housekeeper once she learned of her illegal status.
Watch below as Greta Van Susteren calls out Attorney Gloria Allred, the woman prosecuting Meg Whitman: