Congressman Ted Poe Discusses Murder of BP Agent Brian Terry, Operation Gun Runner and EPA Overreach in Exclusive Video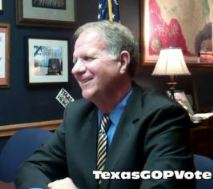 In an exclusive interview with TexasGOPVote, US Representative Ted Poe (R-TX 2nd CD) talks with Bob Price of US Border Watch and TexasGOPVote about a variety of topics including the Bureau of Alcohol, Tobacco, Firearms and Explosives (BATFE, ATF) bungling of Operation Gunrunner leading to the deaths of US Border Patrol Agent Brian Terry and Immigrations and Customs Enforcement (ICE) Agent Jamie Zapata.  Congressman Poe also discussed his own plan for securing the US/Mexico Border and the overreach of the Federal Governments EPA into areas like light bulbs, Texas air quality and offshore drilling.
"The whole idea is nonsense", Congressman Poe said about Operation Gun Runner. "A thousand or more of those weapons have gone to Mexico." Of course the ATF has not been able to trace those guns.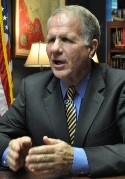 "We do know about two of them. One of those guns was used apparently in the murder of Border Patrol Agent Brian Terry. One of those other weapons was used in the shooting of ICE Agent Jaime Zapata in Mexico."
We also discussed the hesitation of Border Patrol Agents to act in their own defense because of prior wreckless prosecutions of Border Patrol Agents by former US Attorney Johnny Sutton.  This could be part of the reason why Border Patrol Agents are taking "bean bag weapons" to the gunfight along our southern border.  Congressman Poe discusses this in the following video.
On Border Security, Congressman Poe has proposed a resolution named the "National Guard Border Enforcement Act".  This bill calls for deployment of 10,000 National Guard troops along the US/Mexico border.  The troops would be paid for by the federal government, but would remain under the control of the border state governors. This would enable the troops to retain law enforcement authority while guarding our border.
On the EPA, Congressman Poe said, "The EPA should not be in control over what kind of lights we have in our home and offices." This was discussed during our conversation about a South Carolina bill that would allow the manufacture of incandesent light bulbs in South Carolina to only be sold in South Carolina thereby nullifying the overreach of the EPA by eliminating their Interstate Commerce "jurisdiction".  Of course, we must also look at Mr. Poes now famous speech on the House floor about the infamous CFL light bulbs.
We went on to discuss the economic war being waged by the Obama Adminstration against Texas.  This can be illustrated by looking at the examples of economic warfare by this administration against the Lone Star State.  These include cutting back NASA, refusal to place a Space Shuttle in Houston, the cutting of the BAE Systems Armored Vehicle plant in Sealy, Texas, the offshore drilling ban, and the recent refusal to allow federal disaster assistance for the fire stricken areas of Texas.
The EPA now wants to regulate clean air in Texas despite the excellent job being done by our own Texas Commission on Environmental Quality.  "The House has passed legislation to not allow funds to be used to implement the so called greenhouse gas regulation," Mr Poe said.  "I introduced a bill to defund the EPA to prevent them from regulating CO2 emmissions."
Congressman Poe encouraged voters to stay in touch with their legislators to make sure they are following their will as voters.
More of Congressman Poes unique House Floor speeches can be found on YouTube.
Congressman Poe is a great example of the kind of leadership our country is missing.  His "get things done" style of leadership should be a lesson to other members of Congress, especially the leadership in Congress.  It was a great opportunity to meet with Congressman Poe and lean more about his actions on our behalf.