Conservative Featured Voice: James Barnes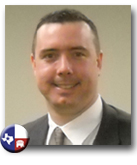 James Barnes is a business and party leader from Bexar County. He currently serves as President of Alantra Media, an online media and marketing company based in San Antonio. Barnes began his career in the US Army, earned his business degree from the University of Maryland and worked as a civilian contractor with Lockheed Martin at Rhein Air Base in Germany for over 15 years. Upon returning stateside he became active with the Republican Party, championing conservative issues and became an entrepreneur.
Barnes was recently re-elected to a second term as Committeeman for the State Republican Executive Committee (SREC) - Senatorial District 19. Barnes represents the largest senate district in Texas and the contiguous 48 states. It spans over 23 counties along the U.S. - Mexico border, from San Antonio to El Paso County. The district is larger than 24 states and 25 countries. Barnes has also been appointed to be the Republican Party of Texas liaison to the Latino National Republican Coalition of Texas (LNRC) and works very closely with the LNRC to establish a strong Hispanic voice in the Republican Party.
Barnes is also on the Board of Directors of the Grass Roots Institute of Texas (GRIT). GRIT's purpose is to build a coalition of Conservative organizations who share a mission to develop conservative leadership, build strong conservative organizational infrastructure and expand the number of conservative public office holders. 
Besides his work on the SREC, LNRC and GRIT, Barnes is the publisher of "The Bexar Republican Weekly News & Review," a local GOP blog, and the Von Ormy Star, a community newspaper in Southwest Bexar County. He also serves on the Board of the Jarret Volunteer Fire Department and is active with the Bexar County Young Republicans.
"I believe in American Exceptionalism! America is the only country in the world where an immigrant can rise from the apple orchards or driving a taxi in New York City to obtaining one of the highest and most prestigious offices in the land. It will take hard work and bold people from every generation to maintain this exceptionalism." - James Barnes