Cornyn: Administration Continues to Hold Jobs Hostage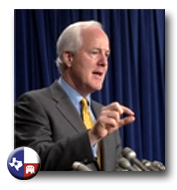 Following the announcement by Secretary of the U.S. Department of Interior Ken Salazar on offshore oil and gas operations today, I issued the below statement:
The Obama Administration's failure to lift the drilling moratorium is holding Gulf Coast jobs hostage. I support and welcome new rules to improve drilling safety requirements, but today's announcement was disappointing. The Administration offers no answers, no certainty months after the shutdown of this vital Gulf industry. Americans are still waiting for them to make good on their promise to help improve our economy. In Texas and along the Gulf Coast, this drilling moratorium is unnecessarily devastating to those people who are still out of work and struggling to provide for their families.
Just before the announcement today, I met with former Senator Bob Graham and William K. Reilly of the National Oil Spill Commission, which was established by President Barack Obama on May 21st, 2010, following the BP Deepwater Horizon spill. I met with the commission's leaders to receive an update on their activities and discuss the oil drilling moratorium and Gulf Coast jobs as Texas is the leading crude oil-producing State in the Nation. In 2006, more than 312,000 Texans were employed in the oil and natural gas industry combined, which accounted for 14.9 percent of Texas' gross state product.
In addition to the moratorium, members of the commission and I discussed Gulf Coast restoration and the need to expedite backlogged Coastal Impact Assistance Program (CIAP) projects for the State of Texas. Over the course of its work, the commission will be holding public meetings, producing staff working papers, meeting with stakeholders, interviewing key players, and analyzing the evidence related to the BP spill and its aftermath. A final report on the commission's findings is due to the President on January 12, 2011.