Cornyn Backs Pro-American Energy Proposal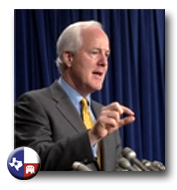 Today, I issued the following statement regarding the Offshore Production & Safety Act of 2011:
Seventy percent of Americans say gas prices are causing their families financial hardship, and Democrats introduce a bill that, in their own words, "is not going to lower gas prices by one penny." One minute, the President is for expanded domestic production, the next, he's signing America up as Brazilian Oil's number one customer. It's time for the President and Democrat leaders to get their priorities—and message—straight when it comes to our national energy policy.
To the contrary, the pro-American energy proposal we're considering today sends a clear message that we value American resources and jobs, and it would empower domestic producers to begin providing families and small businesses relief at the pump in a safe, efficient way.