Cornyn Responds to Florida Healthcare Ruling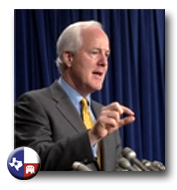 I issued this statement today in response to the decision by a federal judge in Florida that the individual mandate central to the Obama health care law is unconstitutional – making the entire law void:
Today another court has ruled that the Federal Government cannot force a citizen to buy something they don't want. The individual mandate in the President's signature health care bill impinges on the individual liberties our founders fought so hard to protect and exceeds the government of limited powers they fought so hard to create. I will continue to work with my colleagues to repeal this massive, ill-conceived bill and replace it with sensible, substantive reform that will not sink future generations further into debt.
---