Dallas Morning News Endorses Stephen Broden: "Constituents of southern Dallas district deserve better."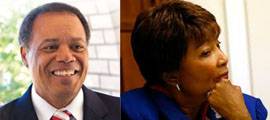 The Dallas Morning News, the same newspaper that waved Stephen Broden off as a "relatively unknown Republican" only a month ago, has now officially endorsed Stephen Broden in his race for U.S. House District 30 against Democratic incumbent Eddie Bernice Johnson.
This is a big deal considering the Dallas Morning News tends to lean left and had been consistently endorsing Eddie Bernice Johnson for the past 18 years she's been in office. 
Dallas Morning News endorsement:
We have spent considerable resources and energy focusing on ways to "bridge the gap" between northern and southern Dallas in recent years and, as a result, we cannot look past the fact that Johnson allowed at least 23 scholarships that could have helped constituents' children to be funneled to her own family and associates. Such self dealing is shameful, particularly in a district so full of need. So is her refusal to accept responsibility in any meaningful way. She repaid the $31,000, but she continues to deny that rules were broken, deflect blame to others in her office and cast aspersions on the reporter who discovered this wrongdoing.
The constituents of this southern Dallas district deserve better. We recommend the Republican challenger, Stephen Broden.
We don't make this recommendation lightly. The public knows little about Broden, 58, but we are heartened by the fact that he has been involved at the street level, reclaiming parts of the district in southern Dallas. He pastors a small mission church near Fair Park, whose goal is to transform the lives of pimps, prostitutes and addicts. Having seen the district's needs from the ground up, he believes much more could be done to create jobs and stability. He emphasizes – and we agree – that it's past time for southern Dallas residents to get good-paying jobs near them instead of having to drive to Frisco.
He has pledged not to put his interests or those of his family ahead of the interests of the constituents.
Continue reading the endorsement here.
With this endorsement, the Dallas Morning News is acknowledging that this district is winnable! It's going to take some work, but it can be done! 
Click below to contribute to Stephen Broden's campaign: