A Doctor's Perspective of the Healthcare Bill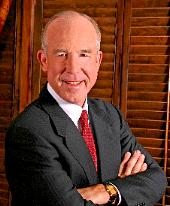 An e-newsletter was recently sent out by Dr. Steven F. Hotze, M.D., founder of the Hotze Health and Wellness Center, in which he explains the ramifications the healthcare bill will have on doctors' treatment of patients.
We do not want politicians rationing our medical care and telling people that they are somehow too old or too sick for treatment. We do not want politicians deciding which treatments will be available, and which will not.
Whom do we trust more: our doctors or our politicians? Of course we trust our doctors more than our politicians. We must keep and defend our freedoms, starting with our most fundamental freedom to choose the medical care that we need most.
The bill that is passing through the House committees is a complete government takeover of medicine that will restrict our choices and lower the quality of care. HR 3200, misleadingly entitled "America's Affordable Health Choices Act of 2009," takes away the choice and control that Americans have today over their medical treatment. People will be told under the bill that abortion is covered at taxpayer expense, but some life-saving or life-enhancing treatments are not.
The Obama bill imposes a "public option" that will define which treatments will be allowed. Your access to bio-identical hormones will probably be rejected by the public option, and that could squeeze out even private access to these helpful treatments.
The bill would force people to buy insurance they do not need, and which will not cover what we do need. Taxpayers will be forced to buy that insurance for those who cannot, at a trillion-dollar expense that will bankrupt the government.
The bill requires that government investigate "self-insured employers not being able to pay obligations." This means government will audit and harass small business owners until they pay for insurance they cannot afford.
The government will dictate the health benefits that must be included by insurance as a condition of being able to participate in the Health Insurance Exchange. The private insurance will have no reason to differ from the public option, and private insurance will soon disappear.
Families with special needs could be hit hardest by this new health bill. In America children with cystic fibrosis live an average of 37 years, but under nationalized health care the life expectancy for this condition is only 27 years in Ireland. That's because government-run health care does not cover many special-needs conditions, and there is not enough of a private market to fund such care after the government takes over.
The Senate bill's summary authorizes "home visits" supposedly to "improve immunization coverage." Americans don't want government knocking on their doors to demand proof of vaccination.
No one expects the U.S. Post Office to be innovative, and it isn't. In fact, Post Offices are shortening their hours because they can't make ends meet. The Post Office did not develop Federal Express, cell phones, and the internet. Do we want medical care in our nation to become like the Post Office? Do we want to kiss goodbye to medical innovation, like possible cures for cancer and other life-saving medical treatments?
Keep the government out of medical care and let the free market work its magic. Return the money to patients so that private medicine can develop the new cures.
The bottom line is that the Obama health care bill gives almost total control to government politicians and bureaucrats to deny you medical care you need. Everyone must say "no" to this government takeover of medicine.
Act now to stop the government overtake of healthcare by signing to the petition!