Early Voting is a BIG HIT with Texas Voters
Day 1 for early voting is in the bag and Day 2 is underway. Voters across Texas rolled out in force to send a message to Washington and Austin. What that message is, we won't know until the night of November 2nd but I think we can draw some early conclusions.
In Dallas, San Antonio and Houston, the numbers are up from the last gubernatorial election in 2006. Houston had nearly triple the 2006 numbers with over 26,000 people casting early votes. In traveling around Harris County yesterday and today I found heavy voting and lines at traditionally Republican/Conservative voting locations. Conversely, turnout in primarily Democrat areas was very low. The same trend was evident with signs and campaign volunteers.
It is clear, as we go into this early voting cycle, Conservative voters are fired up and ready to send a message. Democrats are already licking their wounds for their coming defeat.
Today, I caught up with the candidates for Texas Legislative District 148, Fernando Herrera ( R ) and Jessica Ferrar ( D ). Both were present and talking with voters at Moody Park on Houston's near north side today. It was interesting to watch these two candidates go toe to toe with voters.
This election is a toss up at this point with Herrera going into early voting with huge momentum generated from months of block walking and volunteer building. Today was almost like a series of mini-debates. As a voters would approach, some would recognize Jessica from her many years of service as a public official. She would talk with them and then they would turn to Fernando Herrera. Herrera would introduce himself as the "Pro-Life" candidate. Farrar's response… "I am the Democratic candidate". In this community, most are stunned to learn of Farrar's ultra-progressive pro-abortion positions. I went inside to take a few pictures. When I returned she had left the grounds. I guess she had enough of losing those mini debates. People seemed genuinely stunned when they learned about who she really is and what her voting record represents to their social values.
(One of Two Packed Rooms with Steady Traffic at West Gray Center)
At the West Gray Mulit-Service Center, voters and campaigners were out in huge numbers. The election judge for this location told me their numbers were triple anything she had seen before for Day 1 early voting. Notably, Sarah Davis, John Faulk, Fernando Herrera and the opposition to Proposition 3 (red light cameras) had very strong volunteer support. There was a sea of signs.
Traffic was very slow at Ripley House. I was told they voted around 300 on Day 1 compared with over 1700 at West Gray and over 1200 at the Wirt Road Service Center. Today, voting officials at Ripley House were dealing with some technical issues. Outside Ripley house, it was reported to me that a Hispanic voter came out shaking his head. When he was asked what the problem was he told a worker the people inside had stamped his card with a D and told him he had to vote Democrat. This was reported to Harris County for investigation. As was a report at Moody Park where a couple of voters reported they were unable to find (even with the help of voting officials) Fernando Herrera on their ballot. Apparently the voter was issued an incorrect ballot style and the officials did not take the proper steps to correct this. They told the voter they had to vote the ballot displayed on their machine. If you hear of potential voting abuses or problems at election locations, please let us know.
(Short lines most of the day at West Gray Center)
Voting patterns today seemed consistent with yesterday. Very strong turnout in Conservative areas of town and lower turnout in Democrat areas. If that continues we should see a lot of new Republican members of the Texas Legislature and the US Congress. If you haven't voted yet, please vote early! One big advantage of early voting is those election numbers are reported right after the polls close on Election Day. It should be a very strong early indication of how things will go for the rest of the night.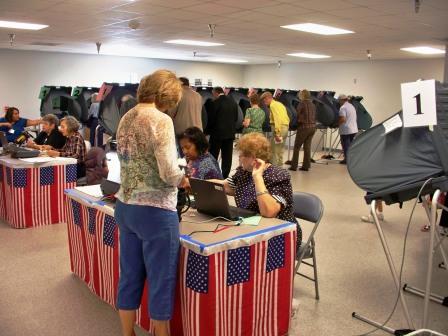 (Steady voting all day at Wirt Rd)
(Very slow at Moody Park)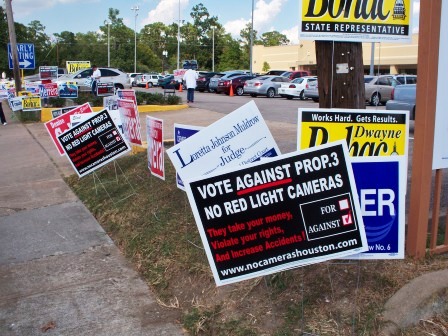 (Lots more signs at Wirt Rd)