Osama Bin Laden is Dead and GM is Alive... and Well in China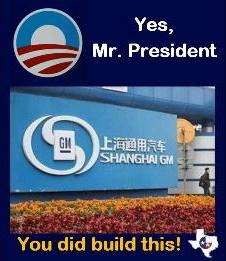 Vice President Joe Biden likes to cheer "Osama Bin Laden is Dead and GM is Alive!" But what he doesnt tell you is that since the illegal GM bankruptcy, President Barack Obama has been hard at work as the "Job-Exporter-in-Chief" moving thousands of high paying, middle-class, NON-UNION jobs to China. GM, the shining star on top of the Obama Re-Election "Winter Holiday Tree", is leaving town quickly and whats left is circling the drain.  
In talking with former GM employees, I learned Obama has been sending non-union jobs like product design, engineering and drafting jobs to China. GM is investing heavily in China, with your taxpayer dollars. And, as you will see below, GM may well be headed right back into the Southern District of New York Bankruptcy Court.
Last week, Obama wanted everyone to think he made a gaffe when he said he wanted to "see us export more jobs, uh... export more products."  He then stuttered for a second and then smoothly said, as if rehearsed, "Excuse me. I,I,I was channeling my opponent for a second."  But the real truth, Obama is at war with middle-class, NON-UNION jobs in America. He is shutting them down wherever he can and now we see he is actually exporting them to China.
Take a look at the video below that talks about what the Obama Administration is doing in China:
Take note of the picture at the 50 second mark in the video (and shown below). This picture shows a 65,000 sq. ft. China Technology Center under construction in China and set to open later this fall. According to GMs website, "The 65,000-square-meter ATC will serve as the home of four key GM technical and design organizations: the China Science Lab, Vehicle Engineering Lab, Advanced Powertrain Engineering Lab and Advanced Design Center. When complete it will include 62 test labs and nine research labs, and have more than 300 employees, including engineers, designers, researchers and technicians." One must wonder how many of those 300 jobs used to be high-paying, non-union, American jobs.
If Biden is right that GM is alive, many in America believe that the US portion of GM is on life support at best. With questions about the bankruptcy process GM went through, including a lawsuit I found on BankruptcyLawReview.com that could potentially completely unravel the GM bankruptcy, GM could be anything but alive. I will report more deeply on this in a future story about GM.
Of course, its not just jobs Obama is exporting to China.  There is also a huge technology shipment heading that way. Last week, Investors Business Daily reported abuot GM and China sataing, "Government Motors, whose international headquarters is in Shanghai, recently announced it would be developing an electric-car platform with its longtime Chinese partner, Shanghai Automotive Industrial Corp. (SAIC), giving away technology developed at taxpayer expense. Obama has no problem with that either."
So, is GM really the best thing Obama has done for America?  Or have his illegal actions in the bankruptcy courts and the unethical practice of using US taxpayer dollars to fund job creation and investment in China left us holding a brown paper bag full of really smelly stuff?
It looks like GM is more like the tarnished star on a Charlie Brown Christmas tree...
For more background information: