Sens. Cruz, Cortez Masto Introduce E-FRONTIER Act
Bill Would Prevent Attempts to Nationalize 5G Networks Without the Consent of Congress
by Ted Cruz
on July 26, 2018 at 10:22 AM
---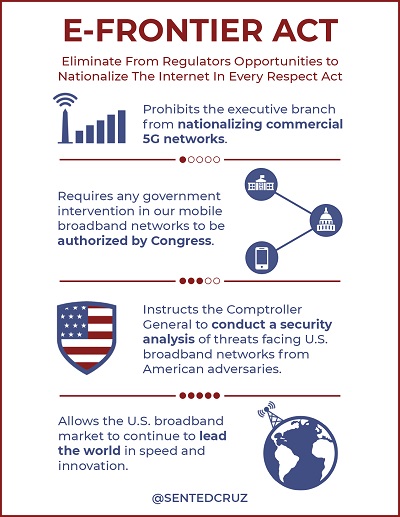 U.S. Sens. Catherine Cortez Masto (D-Nev.) and I, members of the Senate Committee on Commerce, Science and Transportation, recently introduced the Eliminate From Regulators Opportunities to Nationalize The Internet in Every Respect Act (E-FRONTIER Act), which would protect commercial 5G broadband networks from nationalization without authorization from Congress. Sens. Cortez Masto and I have been leading advocates against the nationalization of 5G networks. Earlier this year, we sent a letter to administration officials, arguing that 'any proposals that consider nationalizing these networks will only have a chilling effect on private investment and result in a radical shift in the management of our nation's telecommunication's networks.'
Fifth generation mobile technology has the potential to create millions of new jobs and unlock new breakthroughs across vital sectors of the American economy. Our American system of free enterprise has helped the United States become the global leader in mobile broadband technology since 2009, and it is best equipped to maintain our global leadership moving forward. We believe that the private sector is best positioned to build, deploy, and secure 5G networks. Our legislation would prevent massive government overreach in our private sector and assert the proper role of Congress in the decision making process. If we try to compete with China by acting like China, we will lose far more than our global leadership in mobile technology.
"Partnering with the private sector is the best option we have for building the necessary infrastructure required to securely deploy and operate a nationalized 5G network," said Cortez Masto. "As we look to breakthroughs in innovation to spur domestic economic growth, it is crucial that we work collaboratively with the telecom industry to expand the country's broadband infrastructure and maintain our global competitiveness. Nationalizing our broadband network would be detrimental to competition and private investment."
Furthermore, I have raised my concerns in a number of Commerce Committee hearings, including a hearing with Secretary of Commerce Wilbur Ross and a hearing with National Telecommunications and Information Administration (NTIA) Administrator David Redl.
Read the text of the bill introduced by Sens. Cortez Masto and I here.