States Reduce Incentives For Illegals By Eliminating Worker Misclassification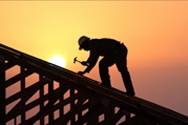 States such as Nebraska, Ohio, New York and others are working on employee misclassification prevention legislation in order to crack down on the practice of misclassifying workers, who should be classified as employees, as independent contractors. Misclassification of workers is especially rampant in the construction industry. 
According to Construction Citizen:
Many contractors and subs are using hourly workers and day laborers, some of them undocumented aliens, and classifying their workers as independent contractors in order to cut costs, avoid paying medical benefits, social security and overtime as part of the cash society in the industry.
...Owners as well are taking a harder stance on the use of independent contractors or labor brokers on their project sites. More and more are requiring that construction workers be paid as employees with full benefits including medical, retirement and overtime for their work.
There is a movement within the individual states to take matters into their own hands to deal with the illegal immigration issue. While many states, as exemplified by Arizona SB1070, are focusing on enforcement of immigration laws, several states are stepping forward to ensure proper and responsible classification of workers. This is will likely lead to enforcement through attrition by reducing the incentive for illegal immigrants to seek a job in the United States, while also ensuring proper treatment of workers and necessary collection of required taxes. 
Is this the next trend for states to legislate what the federal government will not do?