Pete Sessions Congratulates 2018 Congressional Art Competition Winners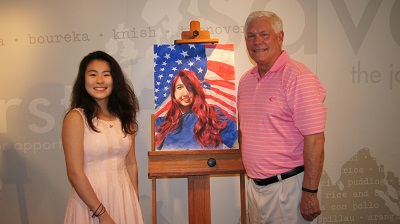 I congratulated the winners of the 2018 Congressional High School Art Competition during an awards ceremony at The Art Institute of Dallas Monday night. 
The Congressional High School Art Competition is an annual, nationwide art competition initiated by Members of Congress in their respective districts. The competition for the 32nd Congressional District of Texas, that I organized, is open to all high school students in the district. 
Elsa Zhang, a sophomore at Highland Park High School, was awarded the Grand Prize for her chalk pastel piece entitled "Red, White, Blue Beauty." Her artwork will be showcased in the corridor leading to the U.S. Capitol building for the next year. As the Grand Prize recipient, Elsa will join the national winners in Washington, DC for the Congressional High School Art Competition award ceremony in June.
As an American, Elsa's drawing captures the true essence and spirit of our great nation. Her piece will be a showstopper in the Capitol corridor and will strike a chord in the heart of every visitor, Member of Congress, and fellow American who walks by.
This year's competition included 51 entries from students representing seven local schools and was once again sponsored by The Art Institute of Dallas.  Prior to the awards ceremony, the Grand Prize winner and Runners Up honors were chosen by art instructors from The Art Institute and local artists. The People's Choice Award winner was chosen by my constituents through online voting on my website. 
Runners Up honors were presented to Yazmin Breaux, a freshman at Lakeview Centennial High School, for her color pencil piece "Diversity" and to Georgia Braiser, a junior at JJ Pearce High School for her watercolor, acrylic, and color pencil piece "Pursuit of Happiness." The People's Choice Award was presented to Jacqueline Patino, a senior at Garland High School, for her photography piece "Red, White, Blue." The two Runners Up and the People's Choice Award artworks will be displayed in my Dallas District Office for the next year.
To say I'm blown away by the talent and professionalism of each of these students is an understatement. All of the pieces in this year's competition highlight the incredible skills, creativity, and leading edge techniques of these young leaders. I am delighted that they participated in this year's art contest and wish them the very best as they continue their education and further develop their artistic abilities.
Students and schools interested in participating in next year's Congressional Art Competition may contact Erin Hansen in my Dallas District office at 972.392.0505 for more information.