Honoring the Victims of Dallas Attack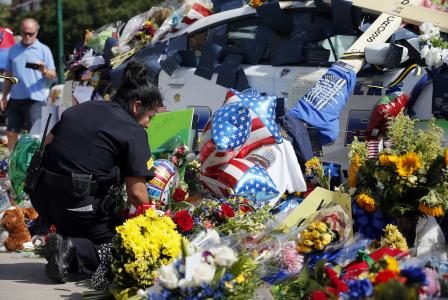 Last Thursday night, hundreds gathered in downtown Dallas to engage in a peaceful protest. Dozens of police officers were on hand to make sure that these protesters could exercise their rights under the First Amendment to the United States Constitution. Protesters even snapped pictures of themselves with the officers in a show of harmony, underscoring the peaceful nature of the event. But as we know now, near the end of the route all this was shattered.
To attack those who work day-in and day-out to keep our communities safe is absolutely revolting. It's an act of pure evil, and the shameful work of a coward. Today our country grieves with Dallas, the Dallas Police Department who lost four of their own, and the Dallas Area Rapid Transit, who lost an officer while protecting the community that night. These officers do what all of our law enforcement officers potentially would be called to do, and that is they put their lives on the line. And some gave their very lives and several others were injured in actions that can only be described as heroic.
To say we're indebted to them for their service to the community is an understatement, but I want to thank each and every one of them who didn't hesitate to put it all on the line to defend and protect the people of Dallas.
Today I will join leaders in Dallas – President Obama, former President Bush – at the memorial service to honor the lives of those we lost and to pray for healing and peace for the city and for our country. And while it should not take an event like this to jolt our consciences, we've got to consider more ways to support our public servants who are tasked with the daunting responsibility of keeping order, enforcing the rule of law, and protecting our communities. One way we could do that is to support additional training for our law enforcement, like some legislation that I've introduced called the POLICE Act, which has passed the senate unanimously. It would make millions of dollars available for law enforcement to pursue active shooter training.
In addition, I plan on introducing other legislation soon that would help law enforcement go after the violent criminals who intentionally target police officers and give additional authorities to our law enforcement officers to help them better defend both the public and themselves.
Now, as our country continues to grieve, I hope we'll also unite to support those who put their lives on the line to keep us safe.