Featured Voice of the Texas GOP: Elizabeth Perez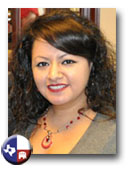 Elizabeth C. Pérez is the daughter of Gerardo and Carolina Pérez, two naturalized citizens who immigrated from Mexico with immigrant visas to the US in 1969 and who are two of the original trail blazers in Houston's Hispanic community. Elizabeth was raised in a very disciplined home in which faith, family, education and strong work ethic were the core values. She was raised Jewish-Catholic and held to a high standard along with her siblings. Her parents challenged her education by having her test for and enroll in the gifted and talented programs from elementary to high school. She graduated from the High School for Law Enforcement and Criminal Justice in which she participated in JROTC Rifle Team, mock trials, school newspaper, plays, cheerleading, yearbook and Youth & Government Debate Team while working summer jobs.
Elizabeth went on to college at the University of St. Thomas in Houston, TX. During her first year there she became a single-mother. If being a freshman in college was not challenge enough, having a baby while going to school and holding three jobs to pay for school was truly a test of faith. She came upon a few stumbling blocks that could have discouraged her; however, she turned them into stepping stones that would lead her to a brighter future. Elizabeth held headstrong on achieving her goal. She paid her way through school by working multiple jobs and with student loans. In addition, she was a scholarship recipient from the Sisters of Charity. The student loans are the only government assistance Elizabeth received as a single-mother. While working on her undergraduate degree, she organized several community outreach projects to the Latino community, such as "Thankful Thoughts" during Thanksgiving and "Holiday Hugs" in which she and a group of students adopted needy families to ensure they had a cheerful holiday season. She also participated in political campaigns at the local level. Prior to graduating, Elizabeth presented her senior thesis "The Effects of American Standards on Latino Students in Public Education" to the university. She graduated from the University of St. Thomas with a Bachelor's in Political Science and as a member of the "National Political Science Honors Society" and the "National Social Science Honors Society."
Elizabeth went on to work for the University of St. Thomas while pursuing a Master's in Political Science and Public Law. During her tenure there, she was a key participant in the strategic and organizational development of the university. She contributed to plans for student recruitment and retention. Elizabeth continued her efforts in the Latino community while also running a sole proprietorship for her events coordinating business. She accomplished all these endeavors and finished her Master's in one year.
Upon graduating from St. Thomas with a Master's in Political Science, Elizabeth stumbled upon the opportunity of working for oil & gas. She accepted a job with an oil & gas company as a consultant. Elizabeth then decided to return to school for a third time. At the time of this decision, Elizabeth was a single parent for 7 years providing for her son on her own merits and without ever feeling the need to ask for child support. She returned to the University of St. Thomas where she pursued a Master's in International Business and Accounting. While working on this degree, she continued to serve as a consultant to the oil & gas industry traveling to Peru, Republic of Georgia, Dubai and India regarding outsourcing and free trade agreements.
Elizabeth is an economist and political consultant. She owns a consulting firm that provides services to oil & gas in: accounting, FCPA, SOX, compliance, outsourcing and free trade agreements. Other services she provides include tax reporting for individuals and businesses, political & governmental consulting, international business & relations, and free trade agreements with Latin America, Middle East and India. Her latest endeavors include preparing her son for his bar mitzvah at Congregation Emanu El in Houston and starting a women's weight loss support group for better health. She is currently in a serious relationship with Yaramy Treviño, an inertial systems electrical engineer at NASA who provides support for the Constellation Man Space Program at the Johnson Space Center in Houston.
Elizabeth C. Pérez is the treasurer of Latino National Republican Coalition Houston and has been tirelessly working to defeat Proposition 1!
"As a single-parent, I put myself through 3 degrees at a private university by working 3 jobs, scholarship and student loans. I consciously never asked for welfare or child-support and haven't to this day. I achieved the American Dream on my own merits." - Elizabeth Pérez