GOP Chairman Ends Abortion Insurance for Employees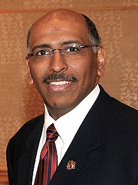 GOP Chairman Michael Steele has recently stopped all GOP-insurance-funded abortions for the Republican National Committee staff. These GOP-insurance-funded abortions had been in effect since 1991.
How many more GOP organizations, or perhaps, conservative hard-liner business examples are out there like this?? The liberals will enjoy this hunting season!
At least Chairman Steele took swift action as soon as he was made aware of it.
Money from our loyal donors should not be used for this purpose," Steele said in a statement late Thursday after learning of the abortion coverage from a news report. "I don't know why this policy existed in the past, but it will not exist under my administration. Consider this issue settled.
According to the article, RNC Chief of Staff Ken McKay, who says the health insurance policy has been in review for some time, wrote a memo to the organization's members:
The memo said the RNC received a phone call from a reporter on Wednesday asking whether the RNC's

health care policy

, through Cigna, covered elective abortions for employees. On Thursday,

Politico.com

published a report citing two sales agents for Cigna who said the RNC's policy covered elective abortion.
If the policy has been "in review for some time" by the RNC, then why does it take a Politico reporter to do the RNC's review for them?