Congressman Tony Gonzales, Colleagues Create the Bipartisan Border Security Technology Caucus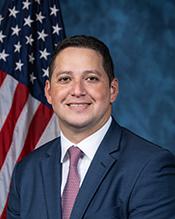 I announced the creation of the bipartisan Border Security Technology Caucus, intended to inform Congress of available technologies to improve and strengthen our nation's border security. I co-founded the caucus with Congressmen Chuck Fleischmann (R-TN-03), Congressmen Tim Ryan (D-OH-13), and Vicente Gonzalez (D-TX-15), who released the following joint statement:
Border security is a bipartisan priority that requires bipartisan cooperation. The Border Security Technology Caucus will improve the way Congress develops border policies by bringing together a bipartisan coalition of lawmakers to ensure the United States is on the cutting-edge of technology that will protect the American people, our border agents, and our national security. As co-founders of this bipartisan caucus, we look forward to paving the way forward for legislation that will improve the enforcement of America's immigration laws and bring our border security into the 21st century.