Cornyn Makes the Case for Prison Reform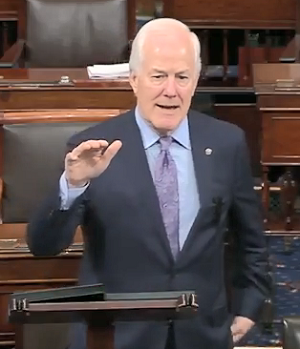 Yesterday on the Senate floor, I discussed the success Texas has had with recidivism reduction programs and the benefits of incorporating them in prison reform at the federal level with my bipartisan legislation, the CORRECTIONS Act.  Excerpts of my remarks are below, and video of my remarks can be found here. 
The reality is somewhere along the way we forgot about rehabilitation, and our prisons have literally become a warehouse for people who have been convicted of criminal offenses. That reality is part of the reason that my state, Texas, and several other states have led the way, not just to be tough on crime but to be smart on crime, too.
Using recidivism reduction programs like job training and education programs, alcohol and drug rehabilitation, letting prisoners go to school while they're in prison to earn a GED or learn a marketable skill, by doing that, Texas has reduced its incarceration rate and crime rate by double-digits at the same time.
If we can reduce the crime rate, we can help them get back on their feet and become productive members of society, and we can save money at the same time.
I'm more encouraged than ever that we'll see some positive momentum on prison reform as the President and some of his closest advisors see prison reform as a top priority.
I know there's some people who think, well, we ought to just lock them up and throw away the key, but that doesn't happen. People get out after a few years, and the question is, are they going to be prepared to reenter lawful society, or will they simply go back to the same old lifestyle, reoffend, and end up back in prison?
I know other people have other ideas, perhaps about sentencing reform and the like, but in this political environment, I'm for doing what we can do rather than spinning our wheels being frustrated about what we can't do because there's simply not the political support in the House and the Senate and at the White House to get it done. So the prison reform bill, I believe, the CORRECTIONS Act is the way to go.