Cornyn Votes for Path to Citizenship for DACA Recipients, Resources to Boost Border Security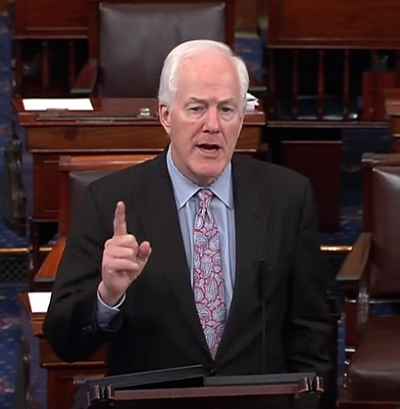 Yesterday I voted for the Secure and Succeed Act, a proposed solution for DACA recipients that provides a pathway to citizenship for 1.8 million young adults and strengthens border security.  Excerpts of my remarks from the Senate floor just before the vote are below, and video of my remarks can be found here. 
It is a good starting point because it could actually be signed into law and solve the challenge we promised to address.
It would provide them a predictable and productive future. I'm glad to be a cosponsor of this legislation which is called the Secure and Succeed Act. It does… provide a pathway to citizenship for an estimated 1.8 million people who are DACA eligible.
Just as importantly, this bill provides a real plan to strengthen border security, utilizing more boots on the ground, better technology, and additional infrastructure, and enhance and modernize our ports of entry.
On Tuesday the Majority Leader tried twice to open the debate and start voting, but both times there were objections heard by our Democratic colleagues. This despite their repeated promises over the years to address the DACA issue once and for all.
I believe sincerely that Republicans and Democrats alike both want to provide certainty to these DACA recipients, but we've got to address the underlying problems with our border security and our flawed immigration system as well.
We know the clock is ticking.
We don't hold children responsible for their parents' mistakes, and that's why we should embrace this proposal.
There are about 124,000 DACA recipients in my state of Texas, and I will proudly cast a vote soon to ensure that they stay here and contribute to our schools, our churches, and our communities. We are a nation of immigrants.