Early Voting is Underway! Time to Vote! Avoid Election Day Hassles and Vote Early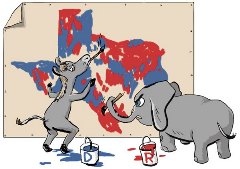 Early voting in Texas took off in a big way this week. Large numbers of people were turning out on Monday as early voting began. Find your voting location in the list below. Mail in ballots are also coming back, but not in the numbers normally expected according to Harris County Clerk, Stan Stanart. If you applied for a ballot, the debates are over, please put your ballot in the mail so your vote will be counted!
Democrats have been out in force registering new voters across Texas. In Harris County, we have a record 2,003,436 registered voters. According to Stanart, this represents an increase of 80,852 new voters just since early September. Those people will probably get out and vote. You need to make sure you do as well! Stanart announced that Harris County voters set a new record for voting during the first day of Early Voting. 47,093 persons voted on Monday, shattering the November 2008 first day total of 39,201.
In Houston, our schools have bond issues on the ballot and the schools are getting students out to vote.  You can bet they are voting for the bond issues. I wonder who else the schools have talked them into voting for.  
The Houston Chronicle reported, "Shouting "vote," more than 300 Davis High School students, parents representing the high school and Marshall Middle School and community members paraded from Davis High School to the early voting location at nearby Holy Name Catholic Church Monday, Oct. 22, 2012, in Houston. The event was to promote support for the HISD Bond and encourage early voting."  It is interesting to note that, according to KSEV Radio Talk Show Host, Chris Baker, one of the schools that is still being renovated from the 2007 bond election is slated to be torn down under the 2012 bond election.  Gotta love Democrat controlled bureaucracies.
HISD Students host Voting Parade! (Photo by Houston Chronicle, Johnny Hanson)
Because of redistricting, many election day polling locations will be difficult and could be confusing for a non-prepared voter. During the early voting process, you can visit any of your county's early voting locations. You can choose the one close to work, or close to home.  Or even the one close to shopping.  Find a convenient time, pick a location and go vote!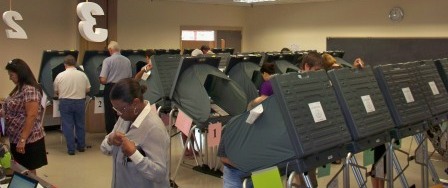 Early Voting Locations:
Following are links for voter information for voting locations in the major counties where information could be found. For other counties, contact your local County Clerk or Election Administrators Office.
And if you think your vote doesn't matter, just listen to these two judges in Harris County. Judge Tad Halbach won his election by just 230 votes out of over 1 million votes cast. Judge Brock Thomas was unseated by an unqualified Democrat Judge in a very tight race because of straight ticket Democrat voting in the Obama sweep. Your vote matters!
Vote today and then spend the next two weeks talking to your friends and neighbors. Get them to the polls. Find every like-minded registered voter you can and make sure they vote. Some of these races may well be decided by just a few votes. Make sure you don't leave any votes at home that could have made the difference. 
Related Stories: