#HoustonStrong Hearing in Texas on Lessons Learned from Harvey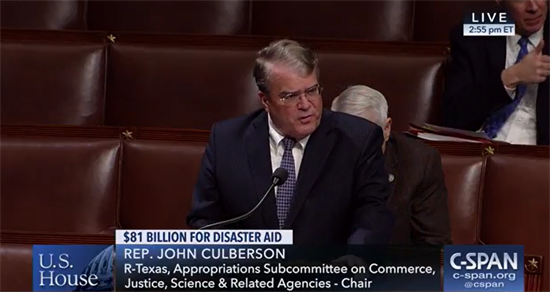 Helping Houstonians rebuild after Hurricane Harvey remains my top priority. Since Harvey hit Texas, I have been working relentlessly to ensure that everyone affected by the terrible storm has the financial help they need to rebuild and recover.
Earlier last week, I participated in a Homeland Security Committee Field Hearing on the lessons learned from Harvey and the path forward. We called it #HoustonStrong. During the hearing, I heard from federal representatives and local officials about their needs and how they are supporting Texans in the wake of the storm and in preparation for the 2018 hurricane season. 

Representatives from the Federal Emergency Management Agency, U.S. Department of Homeland Security, U.S. Army Corps of Engineers, U.S. Department of Housing and Urban Development, Harris County, Texas Southern University, National Association for the Advancement of Colored People, and the City of Houston provided testimony. 
As a senior member of the Appropriations Committee, there is nothing more frustrating than fighting a legislative battle in Congress only for the money that we appropriated to be trapped in a bureaucracy that needlessly delays sending the money to the people who need it most. I want to reiterate my pledge that I will use every financial tool at my disposal on the Appropriations Committee to compel these federal bureaucracies to release the $141 billion we appropriated for disaster victims as soon as possible.
One of the key points that I addressed is the urgent need to waive the continued rental assistance policy. FEMA is following a rule that denies continued rental assistance to individuals whose housing costs are less than 30 percent of their monthly income. Right now, FEMA is denying rental assistance to many of our neighbors who are paying both a mortgage on a flooded house and rent on a temporary apartment. Disaster aid is intended for everyone who was affected by a disaster regardless of income, and I am doing everything I can to see that FEMA's 30 percent policy for continued rental assistance is waived so that everyone who was flooded can receive the help they need.
To further encourage FEMA to immediately waive the continued rental assistance rule, I have filed a bill, H.R. 4930, the Disaster Assistance Rental Fairness Act. My legislation will compel FEMA to follow the intent of the Robert T. Stafford Disaster Assistance Act to send rental assistance to anyone who was flooded regardless of income. Since 1988, this federal law requires that federal agencies must distribute federal aid to anyone affected by a disaster regardless of race, religion, sex, national origin, or income.  
I also stressed to the panel that as Houston continues to rebuild, it is critical that we put a communications system in place, like that of the Amber Alert System, to notify residents of potential dangers and flooding that lie ahead. It's unacceptable that District Seven residents were told to shelter in place when an internal Army Corps forecast predicted that the storm would fill Barker and Addicks reservoirs to record levels and flood surrounding neighborhoods.
I will work with federal and local officials to find out why this critical internal forecast was not shared with all Houstonians. I will also work to change federal law to ensure our neighbors are warned about imminent flooding as soon as federal and local officials become aware.

Click here to watch the full hearing.
If you or someone you know needs federal resources to recover and rebuild from Hurricane Harvey, please visit my Harvey Resources page.