Learning How to Better Secure Our Border
It's abundantly clear that our border patrol needs help.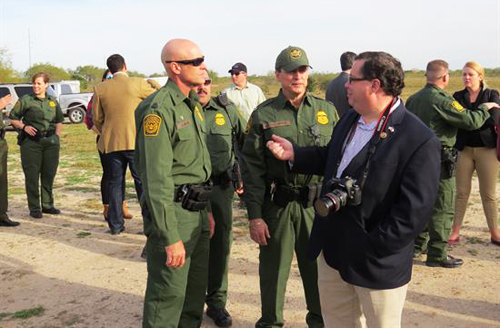 Eighteen of my House colleagues and I toured our Southern Border recently. We heard success stories about interagency cooperation in the San Diego section, the frustration of ranchers in Arizona, and concerns about another seasonal surge of unaccompanied children in the Rio Grande. It's abundantly clear that our border patrol needs help. They need more technology and more manpower.
Predator Drones and Aerostat Balloons are amazingly effective. They are able to track aliens crossing the border miles away and effectively guide border patrol agents to the exact location to intercept people and drugs. The technology is amazing. There are at least 20 or more unused Aerostat Balloons in storage, retired from our military that are ready for border patrol use. A relatively inexpensive camera upgrade makes these tools even more effective. A small fleet of Predator Drones are stationed in both Arizona and Corpus Christi. An additional Predator Drone can be purchased for less than the cost of two miles of border fence.
With more technology, we also need more manpower to respond to aerial sightings. Though difficult, I believe we can secure the borders with high-tech surveillance equipment and well trained National Guard and border patrol agents.
Soon the House is expected to take up H.R. 399, the Secure Our Borders First Act of 2015, of which I am an original cosponsor of. This bill would require the Department of Homeland Security (DHS) to gain full control of the southern border and authorizes more technology and more manpower.
This legislation also provides funds for our National Guard to engage in border patrol activities and allows for our border patrol agents to access federal lands they can't patrol today. Finally, this legislation would enforce penalties on DHS political appointees if the goals for securing our border outlined by Congress are not met.
Though not perfect, and for arcane House jurisdictional rules, the bill does not address all of our needs like interior enforcement and mandatory E-Verify. These issues fall within the jurisdiction if the House Judiciary Committee. The chairman of this committee, Rep. Bob Goodlatte (R-VA-06), has assured me that we will have additional bills dealing with these issues.