Pastor Johns Lawson Speaks at Dallas Guns Across America Rally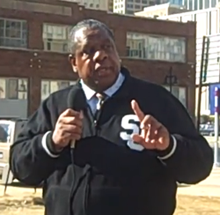 Saturday, January 19th, I  was invited to speak in defense of our Second Amendment rights at a pro-gun rally Dallas.
The First Presbyterian Church of Dallas supported an anti-Second Amendment movement by hosting its 7th annual gun buy-back program to purchase guns in order to destroy them. However, across the street from the church, Lawson spoke for the pro-Second Amendment group who believed that guns should be placed in the hands of every responsible American citizen.
Bishop John Lawson is Pastor of The Children of God Ministry of Dallas.