Rep. Van Duyne Releases Statement on Security Package Vote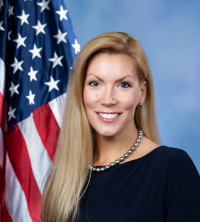 Last week I released a statement following my vote on the Security Package:
Last night I voted in favor of a bipartisan security package to provide critical aid to Ukraine, increase funding for ICE, and allocate long-overdue funding for border patrol agents and the Remain in Mexico Policy. It strengthens national security and supports our service members. This bill will send more money to protect our border until we can elect a President who sees our security as priority.
For over a year, the security of our southern border has been woefully neglected. This bill provides $15.5 billion for Customs and Border Patrol, including $100 million for hiring additional Border Patrol personnel and $400 million to maintain ICE detention beds. We currently have just under 20,000 agents and we're losing them faster than they can hire. This funding will enable CBP to hire 350 to 700 over the next 2 years. Our understaffed agents at CBP and ICE will finally be able to hire additional personnel and also purchase 6 new X-Ray systems to speed cargo processing and enhance CBP's ability to detect narcotics, including fentanyl. I have been calling for additional funding for border patrol for months and the aid in this bill is a vital step in securing our borders. 
We have seen our country and the world unify in support for Ukraine. This bill provides critical military, economic, and humanitarian assistance to the people of Ukraine in their time of need. The $13.6 billion in funding will be pivotal in their fight for independence by authorizing additional weapons and bolstering cyber capabilities. Sending aid is also a critical step in ending this conflict- which is having devastating consequences not just in Ukraine but in energy sectors across the globe. 
Lastly, I voted to secure critical funding for TX-24 infrastructure, including $40 million to fund the Department of Veterans Affairs and the National Center for Post‐traumatic Stress Disorder. It also included $5 million for the DFW Airport Brute Force Electric Central Utility Plant, $5 million for the DFW Airport Aircraft Rescue and Fire Fighting Station Consolidation, and $5 million for the DFW Airport New Snow and Ice Removal Equipment Storage Facility.
Securing the border, helping our allies, and funding our communities should be a bipartisan priority as we seek solutions in Congress. I will always vote in favor of a strong border, deterring our adversaries, and pragmatic solutions for TX-24