Republicans Boycott Climate Change Legislation, Democrats Go Ahead Anyways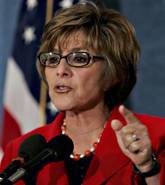 Despite a boycott by Republican leaders in the Senate Environment and Public Works Committee, the Democrats, led by Senator Barbara Boxer of California, have decided to forge ahead with climate change legislation.
The climate change legislation will tighten limits on carbon emissions and other greenhouse gases blamed for global warming. Refiners, power plants, manufacturers, and other industrial plants will be forced to either cut their emissions or buy and trade allowances in order to release emissions.
The seven Republicans on the panel, led by James Inhofe of Oklahoma, had hoped their boycott would encourage the Environmental Protection Agency to complete a new analysis of the price tag of the climate change bill.
Inhofe joined Sen. Kay Bailey Hutchison, R-Texas, and other Republicans in insisting on "a full and complete analysis of the likely effects" of the measure.
"We are deeply troubled by the (Democrats') failure to accommodate a request … for a complete analysis of the bill's projected impacts on the nation," they said in a letter to Boxer.
The group added a warning that if Boxer tries to advance the legislation out of her committee without "a satisfactory analysis" and bipartisan involvement, it will "severely damage, rather than help, the chances of enacting changes to our nation's climate and energy policies."
Haven't the Democrats learned through their failure on enacting the healthcare reform bill that they must come up with sensible legislation that will at least attempt to gain bipartisan support?