Schumer Sabotaging Bipartisan Infrastructure Effort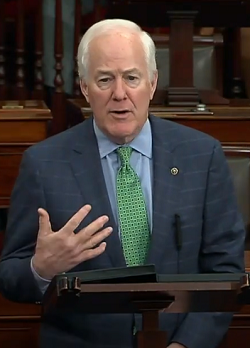 Yesterday on the floor, I discussed Majority Leader Schumer's decision to rush a vote on the bipartisan infrastructure bill so it will fail, allowing him to pursue his far-left priorities. Excerpts of my remarks are below, and video can be found here.

Our colleagues on both sides of the aisle have been hard at work for weeks negotiating in good faith to get a balanced agreement on an issue that virtually everyone supports.

We're days away from having the opportunity to read a bill, let alone provide the Congressional Budget Office the opportunity to calculate the costs.

That's why it's so baffling to me that the Majority Leader, the Senator from New York, is forcing a vote on this bill before it's even ready.

Of course, that raises a very significant question: Why in the world would he do that? Why is he rushing through the final stage of what has been a productive, bipartisan process? The only logical conclusion I can come up with is he wants this bill and this bipartisan effort to fail.

I believe the Senator from New York wants this vote to fail because he really wants to go the partisan route; namely, the big, ugly, multitrillion-dollar spending spree that Bernie Sanders and others have been advocating. He doesn't need Republican votes to do that and he can implement some of the most radical policies on the far left's wish list - things like the Green New Deal, massive tax hikes, crippling new economic regulations.

Don't do it. Call off the vote. Let the bipartisan group finish their work. Don't set up a vote that will fail just because you want to appease the far left.