Smith Patent Reform Bill Becomes Law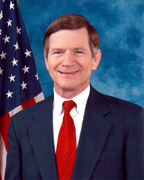 President Obama today signed into law the Leahy-Smith America Invents Act (H.R. 1249) a bipartisan, bicameral bill that updates our patent system to encourage innovation, job creation and economic growth. Both Houses of Congress overwhelmingly supported the proposal, which was sponsored by House Judiciary Committee Chairman Lamar Smith (R-Texas). The House of Representatives passed H.R. 1249 by a vote of 304-117 earlier this year. The Senate passed the bill by a vote of 89-9. Senator Patrick Leahy (D-Vermont) partnered with Chairman Smith on the legislation. Congressman Smith led the House efforts on patent reform for more than six years.
Much-needed reforms to our patent system are long overdue. The last major patent reform was nearly 60 years ago. The House patent reform bill implements a first-inventor-to-file standard for patent approval, creates a post-grant review system to weed out bad patents, and helps the Patent and Trademark Office (PTO) address the backlog of patent applications. This bill is supported by local companies as well as many national organizations and businesses. The full list is available here.
Chairman Smith (R-Texas): "The America Invents Act is one of the most significant job creation bills enacted by Congress this year. Our outdated patent system has been a barrier to innovation, unnecessarily delaying American inventors from marketing new products and creating jobs for American workers. It takes over three years to get a patent approved in the U.S. American innovators are forced to wait years before they can hire workers and market their inventions.
"The enactment of H.R. 1249 is a victory for America's innovators and job creators who rely on our patent system to develop new products and grow their businesses. The America Invents Act brings our patent system into the 21st century, reducing frivolous litigation while creating a more efficient process for the approval of patents. These reforms will help the innovators and job creators of today launch the products and businesses of tomorrow."
For more information about the America Invents Act please visit: http://judiciary.house.gov/issues/issues_patentreformact2011.html