Border Security and Immigration: Common Sense Solutions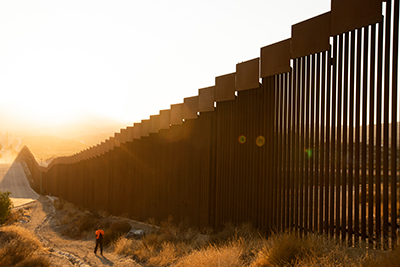 The following article was written by Texas Association of Business's Katie Zarate and American Immigration Council's Chelsie Kramer and orginally posted on TAB's website:
The crisis at the Texas-Mexico border takes up headlines every day. US Border Patrol is overwhelmed by the number of migrants entering the country. Courts are inundated with asylum requests. Employers struggle to secure the talent they need due to outdated visa systems. Texans from every corner of the state are alarmed by the rise in drug and human trafficking.
It is a devastating situation that affects real lives on both sides of the border, and despite efforts from leaders like U.S. Senator John Cornyn and Kyrsten Sinema, Congress has not reached a consensus on legislative solutions. Part of the problem is that the conversation tends to be divided into "either-or" categories: either border security or immigration reform. The business community maintains that the solution is not an "either-or" scenario. Ensuring the border is secure and safe for legal immigration and commerce while working on commonsense immigration policies that benefit all Texans have been fundamental tenets of the Texas business community's advocacy for years.
To promote public safety and a competitive workforce, the Texas State Chamber advocates for improvements to border security, DACA, visas, and the U.S. asylum system. Sensible solutions at the federal level would help attract global talent and investments to keep the state and U.S. economy humming. According to research by the American Immigration Council, despite making up 17.1 percent of the Texas population, immigrants comprise 21.9 percent of the workforce. Between 2017 and 2021, the number of online job postings in Texas increased from 1.85 million to 3.84 million, more than doubling. With over 7 million Texans aged 55 and older, it's clear that immigrants are needed to complement our U.S.-born workers.
A member of the Chamber, International Bank of Commerce, published several recommendations in a report titled "Common Sense Border Management Solutions."
Updating our immigration and asylum laws is at the top of the list.
"Immigration and asylum laws must be reformed to meet the workforce needs of the U.S. economy and provide the full range of workers needed to sustain U.S. economic growth," wrote Dennis E. Nixon, IBC CEO. Nixon explained the vast majority of people crossing the border are "economic migrants," meaning they want to contribute to the U.S. workforce. Given there are nearly two open jobs for every nonworking American, business owners need an immigration system that allows people from outside our country to come in and fill labor gaps.
We also need to ensure the current people here, like DACA recipients, can stay and continue contributing to our communities. Research by FWD.us found that if DACA renewals were halted, an estimated 22,000 jobs would be lost every month for two years nationwide. Here in Texas, over 200,000 DACA-eligible residents, 95.2% of which are in the labor force, contribute $912.3 million in taxes annually.
IBC also recommends critical infrastructure projects to enhance cross-border commerce and increase funding for immigration judges to address the backlog of more than 1.8 million cases. Read more in "Common Sense Border Management Solutions."