Business Community Discusses the Economic Impact of Immigrants in San Antonio​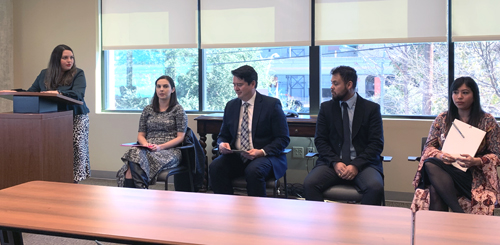 Business leaders and immigration policy experts gathered to discuss the critical role that immigrants play in the San Antonio economy recently at a panel hosted by the Texas Business Immigration Coalition, San Antonio Area Foundation, and the San Antonio Hispanic Chamber of Commerce. Speakers cited data revealing the contributions that immigrants make to the economy and discussed the need for a bipartisan effort to solve the congressional impasse on immigration reform.
Citing a New American Economy report, Tino Gallegos, City Immigration Community Liaison for the City of San Antonio pointed out that immigrants not only contribute to the local workforce, but they create jobs as well. While making up 13.5% of the San Antonio population, immigrants made up 30.3% of the business owners in the city in 2017.
The same report revealed that immigrants in San Antonio contributed $369.2 million in state and local taxes and $674.8 million in federal taxes, leaving them with $3.6 billion in spending power.
Sophie Torres, Vice-President of Policy and Business Advocacy at the San Antonio Hispanic Chamber of Commerce, highlighted the fact that immigration is critical to economic growth and stability, especially in a time like the present when there are more open jobs in the economy than Americans looking for work.
Torres said that recent increases in the costs and length of processing times for visas have had an adverse impact on entrepreneurs and employers who are experiencing workforce shortages. 
Courtney Balderas-Jacob, Assistant Director of the University of Texas at San Antonio Dreamers Resource Center, said that the "clunkiness" of pathways for international students to study in the US led to a 6.6% decline in the enrollment of international students in 2019, on the heels of a 3% decline in 2018. 
In response to a question about the impact that the passage of a Dream Act or comprehensive immigration reform would have on the economy from moderator Andrea Ramos Fernandez, San Antonio & Austin Business Outreach Manager with the Texas Business Immigration Coalition, Gallegos said it would take away a level of uncertainty.
Not just as workers, but as taxpayers and consumers "they would have better earning power and socioeconomic indicators, and more people have health insurance," Gallegos said. He also explained that currently for most undocumented immigrants, there is no real pathway to obtain green cards. " If we have people who are less afraid, less exposed to trauma, better ability to earn and put down roots here, we will all benefit," he said.
Gallegos cited a New American Economy report showing that  216,554 DACA eligible residents in Texas had a total spending power of $2.9 billion and paid $596.2 million in taxes in 2017 and said that taking away DACA status would have a significant negative impact on Texas' economy.
"Take away DACA status and the ability to work and you lose those fiscal contributions… it will have a ripple effect for everyone else in the community as well as local government. That's tax dollars we can't use to make investments on the roads, schools, airport, and all kinds of things that impact our quality of life," said Gallegos.
Additionally, a New American Economy report says that a creating a path to legalization for the 11 million undocumented immigrants in the US would result in $116 billion in federal revenue and an estimated $1.4 trillion in GDP growth over 10 years. In an alternate scenario, the report says deporting all undocumented immigrants would result in a "Great Recession-like blow" to the economy, reducing GDP by $1.6 trillion and costing the federal government $400 billion over 20 years. 
Torres called for a comprehensive and bipartisan effort to solve a longstanding congressional impasse on immigration reform. "Even though everyone recognizes that there are issues to be addressed, there isn't a consensus unfortunately. In DC there needs some sort of consensus not just to work across the aisle but to have a reform that addresses the issue in the most holistic way where everyone wins a piece of what they want," she said. 
The data that speakers highlighted clearly show a conditional pathway of legalization to be the most economically beneficial method of dealing with the 11 million undocumented immigrants in the US today. However, as Torres pointed out, for such a policy to become legislation, lawmakers on both sides of the aisle will need to work together to achieve their policy goals. A successful compromise will likely also need to address the legal immigration system, guest worker visas, and improving border security to a point where the federal government has operational control of who and what are coming into our country.​