Cornyn Addresses RESULTS Amendment on Senate Floor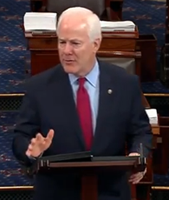 I understand why the American people don't trust Washington, I understand why they dismiss some border security promises as rhetoric.
That's why my amendment, the RESULTS amendment, is so important, and it's essential to accomplishing the goal of bipartisan immigration reform. As I said, right now, Congress and Washington have a major credibility problem.
I'm afraid the Gang of Eight bill -- in its current form -- would make this problem worse.
Instead of enacting so-called triggers that are just really talking points disguised as policy, it's time for us to adopt real triggers.
Strengthening border security and enhancing interior enforcement are not alternatives to fixing our broken immigration system; they are complements of the kinds of sensible reforms that members of both parties have endorsed.