Cornyn Offers Real Trigger for Border Security to Gang of 8 Bill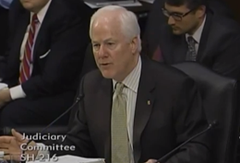 Much to my surprise, there's absolutely no trigger in this bill tied to border security, or any metrics, or measuring stick by which we could measure our success in securing the border. And I think it's absolutely critical that we need both of those.
Drug smugglers and human traffickers don't use E-verify, so we're going to have to stop them through our border strategy. My amendment would plug multiple gaping holes in the border security provisions.
I think it's more helpful, rather than just thinking about the border, to think about a football field. My amendment would require the DHS to deploy a zone defense that's capable of covering the entire field, from sideline to sideline.
But my amendment would not just guarantee best wishes and hopes and aspirations, it would actually guarantee results. That's because it would mandate that the Department of Homeland Security achieve operational control of every sector, all 9 sectors of the Southern border, including the apprehension rate of at least 90 percent.
You can watch video of my full remarks here.