Notario Fraud and Other Scams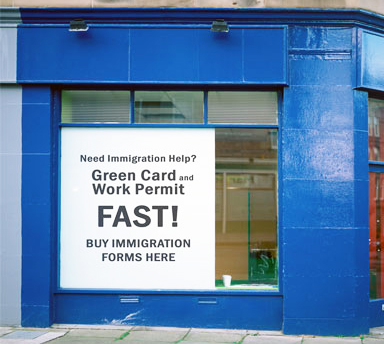 In many Latin American countries a notario, or notary, is the equivalent of an attorney. In others, the title denotes someone who is a public official with quasi-judicial power. However, in the United States, a notario is simply someone legally empowered to witness and certify documents and take affidavits. They are not licensed to practice law.
In most heavily Latino U.S. communities, notarios knowingly advertise themselves as accepted practitioners of law. They prey on the tendency of the immigrant culture to trust in the ways of their country of origin by representing themselves to the cultural community as someone who can legally assist with immigration problems. You have probably seen notario advertisements on billboards, on buses, and in Spanish-language newspapers. Notario scams often spell disaster for immigrants desperate for a shot at permanent residency in the United States. Not only do they lose their money, but they also often face deportation or remain in limbo after many years of struggle.
Employers have a vested interest in warning their workforce against hiring notarios because it could permanently impact the worker's immigration status. The best thing you can do for your employees is to explain to them that notarios are not attorneys in the United States even though they may work in a lawyer's office or through a legal referral service. Although they may appear legitimate, they cannot represent people before immigration authorities as they are not authorized to practice law.
There are several organizations committed to ending notario fraud and warning the community about the dangers of using notarios. The American Immigration Lawyers Association (AILA) and USCIS both offer free downloadable brochures, signs and posters for employers who want to warn their employees about notario fraud. The victims of notario fraud are often unaware that they can permanently lose opportunities to pursue actual immigration relief because a notario has damaged their case. Listed below are some facts and strategies that you as the employer will want your employees to know and understand:
A law degree is not a license to practice law. A law degree from another country does not qualify as a license to practice law in the United States. Although a notario may produce a diploma of law degree from another country to make people believe that they are "official," the notario is not authorized to practice law until (s)he applies for admission to a U.S. state bar, passes a stringent written test, and meets all other criteria to receive a license to practice law in the U.S.
Emphasize to your employees that they should be very suspicious of a notario that says his or her work is "100 percent guaranteed." Licensed attorneys in the United States are never allowed to guarantee results. It is an ethics violation and could cause an attorney to lose his or her license to practice law altogether. Notarios do not have any oversight for their profession, and they do not have a governing board.
Confidentiality is essential. A licensed attorney is always the best option when choosing immigration assistance, because they are required by law to keep all conversations completely confidential. There have been many cases where a notario uses exposure of confidential information as blackmail to ensure that the immigrant client keeps paying.
Provide a list of qualified lawyers. Employers should consider offering a free lunch-break seminar hosted by a local attorney to share information about President Obama's executive action. Some employers may choose to vet local attorneys and provide to employees the names and contact information of those that are licensed and qualified to practice immigration law. You may also compile a list of local nonprofit organizations that can help your employees with immigration status issues.