Information on Glenn Beck's 8/28 Restoring Honor Rally, Will Be Streamed Live on Facebook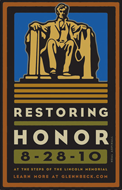 Below is information on the Restoring Honor Rally to be held in Washington, D.C. Saturday.
Where? The event stage will be located on the steps of the Lincoln Memorial in Washington, DC. Several video screens and sound towers will be placed along the Lincoln Memorial Reflecting Pool and on the grounds of the Washington Monument. Remember that these monuments are located in a National Park and are open to the public as well as attendees of our event. Safety for all is our primary concern so please follow all rules posted and be respectful of all in attendance.
When? Official hours are 10 a.m. – 1 p.m. on Saturday, August 28, 2010.
Who? The speakers include representatives from SOWF (Special Operations Warrior Foundation), Glenn Beck, Sarah Palin, Dr. Alveda King and Marcus Luttrell. Jo Dee Messina will be performing as well.
Why? The mission of the rally is to recognize our First Amendment rights and honor the service members who fight to protect those freedoms.
Find additional information about the event here.
If you can't make it to Washington, D.C. for the Restoring Honor Rally,watch it live on Facebook here.