Interview with Chairman Steve Munisteri at the Hands Off Texas! rally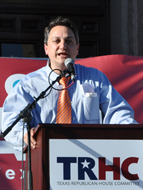 Steve Munisteri is the Chairman of the Republican Party of Texas.
Steve Munisteri is a native of Houston, TX, and a 38 year veteran of Republican politics in Texas and the United States as a conservative grassroots activist.
Following his election to the State Chairmanship at the 2010 Texas GOP Convention in Dallas, Mr. Munisteri obtained a second residence in Travis County and currently serves full-time as the State Party Chairman at the RPT headquarters in Austin.