Fighting Human Trafficking in Texas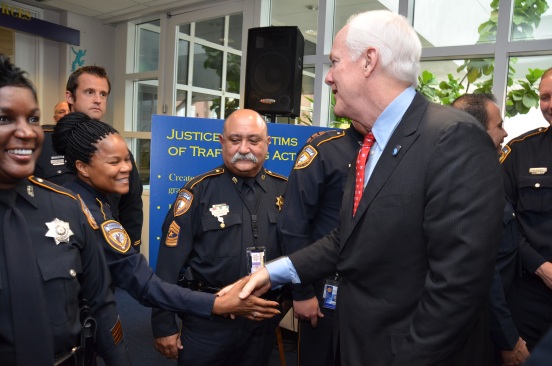 January is National Slavery and Human Trafficking Prevention Month, a sobering reminder that even as we enter the year 2014, people around the world continue to be victims of slavery and human trafficking.
Tragically, these horrendous crimes are occurring at an alarming rate in our own state. 25% of human trafficking victims are located in Texas.
I have introduced several pieces of legislation he is working to pass in the Senate to help law enforcement track down and prosecute these criminals, and provide support for the victims of these crimes.
The Justice for Victims of Trafficking Act
This bill would create a deficit-neutral fund to increase support and protection for victims of human trafficking, and would assist law enforcement in targeting organized criminal networks and cartels involved in human trafficking.
Representative Ted Poe (R-TX) has introduced the bill in the U.S. House of Representatives.
The Stop Exploitation Through Trafficking Act (SETT)
This bill will give prosecutors and child welfare agencies the tools they need to tackle domestic minor sex trafficking and help make sure victims of these horrific crimes receive the support they need, by ensuring that minors who are sold for sex aren't prosecuted as defendants, but are instead recognized as victims.
For more information about my efforts to assist human trafficking victims, please visit his website.
For additional resources, please contact the National Human Trafficking Resource Center (NHTRC) online or at 1-888-373-7888.