Murphy calls on Thibaut to return tainted campaign donations
This news release was received from the Jim Murphy Campaign for State Representative, HD-133 (Texas House District 133).

(Houston, TX) –State representative candidate Jim Murphy (R-Houston) called on his opponent to return over $43,000 in campaign contributions from Texans Together, the Houston organization recently accused of widespread voter registration fraud.  Murphy faces Democrat incumbent and former ACORN lobbyist Kristi Thibaut (D-Houston) in the November election.

"I am calling on Kristi Thibaut to resign her board position with Texans Together, publically denounce the fraudulent actions of the Houston Votes project, and return the $43,500 that she has taken for her campaign," said Murphy. "Voters need to be assured that my opponent is not part of these actions, or beholden to their agenda."

In an August 24 press conference, Harris County Voter Registrar Leo Vazquez announced that his office had received over 5,000 fraudulent or improper voter registration applications from Houston Votes during its 2010 voter registration drive.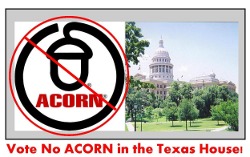 "The integrity of the voter roll of Harris County, Texas, appears to be under an organized and systematic attack by the group operating under the name 'Houston Votes,'" explained Vasquez. "Houston Votes is the voter registration machine of the 'Texans Together Education Fund.' Houston Votes and Texans Together have effectively emerged as our area's new 'ACORN' organization."

Murphy addressed the issue at a meeting of the King Street Patriots, the non-partisan political group that first brought the voter registration irregularities to the attention of Harris County officials.

"Our primary concern is that our democratic process be protected and the integrity of our ballots be maintained," said Catherine Engelbrecht, President and Co-Founder of the King Street Patriots.  "We feel confident that Rep. Thibaut will return the contributions her campaign has accepted from Texans Together, now that these fraudulent actions have come to light."

Thibaut has recently come under fire from the Republican Party of Texas for her work in 2007 as a lobbyist for ACORN, the controversial organization accused of widespread voter fraud throughout the country.  The RPT recently launched a website, www.KristiWorksforACORN.com that details her lobby activities on behalf of the discredited organization.
Pd Pol ad by Friends of Jim Murphy

###