Smith Co-Sponsors Cut, Cap and Balance Act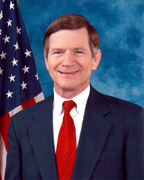 Today, I co-sponsored the Cut, Cap and Balance Act. This legislation would enact significant spending cuts, place enforceable caps on government spending and require the passage of a Balanced Budget Amendment in order to raise the debt limit.
This legislation would have an immediate impact on our debt crisis by cutting government spending and helping put our fiscal house back in order. Our nation's $14.3 trillion debt threatens the economic security of future generations. We currently borrow 43 cents for every dollar we spend. This legislation puts measures in place to make immediate cuts and cap future spending. We also need a Constitutional amendment requiring a balanced federal budget so that we can address the underlying causes of our debt. This legislation tackles all aspects of our out-of-control federal spending and helps secure our economic future.
The Cut, Cap and Balance Act cuts total spending by $111 billion in FY 2012, reducing non-defense discretionary spending below 2008 levels. The legislation also puts statutory, enforceable caps into place, bringing spending down to the historic average of 20% of GDP by 2021. And it requires the passage of a Balanced Budget Amendment in order for the debt limit to be raised. Under this legislation, the president can only request a debt ceiling increase if a qualifying Balanced Budget Amendment is passed by Congress and is sent to the states for ratification.
---
Related Content: Dianne Costa, Candidate for U.S. Congress, Discusses the Debt Ceiling and the Cut, Cap and Balance Proposal