Join the Texas Rally for Life on Saturday, January 23, at the Capitol in Austin!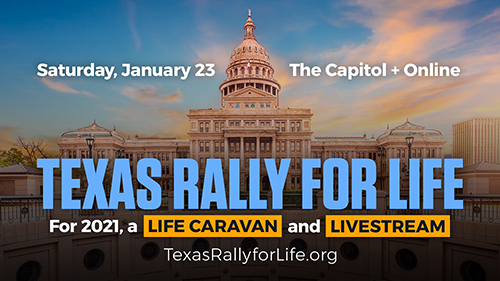 The 2021 Texas Rally for Life will be held on Saturday, January 23, from 2-4 PM CT!
This event annually draws thousands of people from across the state to commemorate the U.S. Supreme Court's tragic Roe v. Wade decision that made abortion legal in Texas and across the nation throughout all nine months of pregnancy. 2021 is the 48th anniversary of that tragic day.
Show our elected officials and the media that Texas is pro-life!
Get all the details and register to participate at:
http://www.texasrallyforlife.org
To navigate ongoing COVID challenges, we've completely redesigned this event.
LIFE CARAVAN
Instead of the massage march and rally at the Capitol grounds, we will have a Life Caravan in downtown Austin that travels directly around the Capitol. We will begin at 1:30 PM at the state parking garages at 14th St. and San Jacinto Blvd (1401 San Jacinto).

Please register here so we can give you any last-minute updates.

Vehicles will be dispatched from the garages beginning at 1:30 PM Central to start the 30-minute loop through the city and around the Texas Capitol perimeter.

Your vehicle can make the loop as many times as you wish during the two-hour program. Please obey all traffic signals and laws. Drivers may not watch the Livestream broadcast but can listen to the audio online or via radio on The Bridge, 101.1 FM, 1120 AM Austin.
LIVESTREAM AND RADIO BROADCAST
We will broadcast the program 2-4 PM at TexasRallyforLife.org and on The Bridge, 101.1 FM, 1120 AM Austin. You'll hear from dynamic pro-life leaders including:
Gov. Greg Abbott, Governor of Texas Abby Johnson, Former Planned Parenthood Director
Claire Culwell, Abortion Survivor
David Bereit, Founder of 40 Days for Life
Kristin Hawkins, Students for Life of America
Jason Jones, Pro-Life Film Producer & Founder of Movie to Movement
More speakers, remote location reports, and schedule will be announced soon!

Learn more and register to participate at http://www.texasrallyforlife.org.
Here's why your participation in the Texas Rally for Life is more important than ever:
Mothers and babies are at higher risk of abortion amidst ongoing COVID concerns.

Our Texas legislature is commencing its session with opportunities to make life-saving gains.

The ardently pro-abortion Biden/Harris administration will be sworn in on January 20.

With Amy Coney Barrett on the US Supreme Court, legal challenges to Roe v. Wade face hopeful prospects.

Planned Parenthood and other abortion operations are dead-set on expanding their agenda.
With only six days until this historic Texas Rally for Life, please do everything you can to join the Texas Rally for Life ... and invite every pro-life Texan you know by forwarding this email!

Together, let's send a strong, unified message: TEXAS IS PRO-LIFE!