Rally with Hispanic Community and Candidate for Congress Stephen Broden in Lancaster, Texas District 30
Elections are coming around the corner, and one of the most important races is in Congressional District 30. Stephen Broden has been reaching out to his district, meeting at different places and attending many events. Saturday evening, he attended special event with the Hispanic community of District 30.
Trayce Bradford, who leads the Facebook page "Prayer for Stephen Broden for Congress," wrote about the event:
Saturday evening felt more like a "Love God and Country Rally" than just another political meet and greet. We opened with prayer led by Dr. Daryl Boyne, the US and Texas pledge and then sang the National Anthem lead by Joy Omega. We rounded this portion of the event out with us all singing a resounding rendition of At The Cross. The Chair of the Latino National Republican Coalition of North Texas who is the Former Mayor of Highland Village Dianne Costa, and National Director of VOCES Action Adryana Boyne kept the evening moving along with inspiring exhortations and some good question and answer time with soon to be Congressman Broden. This particular evening was an outreach to the Hispanic community. As we set at Bienvenidos Restaurant several thoughts came to my mind. One, I don't speak a word of Spanish but I love the people, the culture and the food. I am inspired by their heart for family and life. I sat with a woman who left Cuba years ago. She is passionate about her family and doing whatever it takes to keep this country free for her grandchildren. As we listened, sang our patriotic songs and made new friends I thought to myself this is what freedom looks like. Hope, joy and faith shared among new friends all drawn together for a common reason. We love our God, family and country and we believe for this time Stephen Broden is the man to help keep us on the path to position our nation for a better future.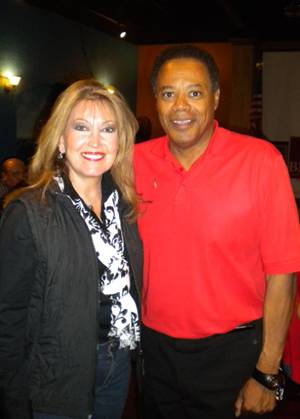 Stephen Broden with Dianne Costa
Hispanics do not share the values of current congresswoman Eddie Bernice Johnson, who has impoverished the District and who also has shown lack of ethics regarding scholarships for students in her district. Her position regarding abortion is that she does not stand to defend the right to life of the unborn.The Latino National Republican Coalition of North Texas has given their endorsement to Stephen Broden for Congress and stand strongly with him becasue he has conservative fiscal and moral values like most Hispanics.
View more pictures from the event below: