Former Prime Minister Margaret Thatcher Dies Following Stroke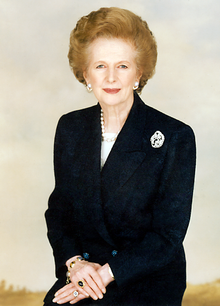 Margaret Thatcher, one of the defining figures in modern British politics, died today following a stroke. Thatcher was Conservative Prime Minister from 1979 to 1990, the first woman to hold the position.
Alongside former U.S. President Ronald Reagan, Thatcher battled against communism and saw the Berlin Wall get torn down in 1989. Prime Minister David Cameron said in a statement: "As our first woman Prime Minister, Margaret Thatcher succeeded against all the odds, and the real thing about Margaret Thatcher is that she didn't just lead our country, she saved our country. I believe she'll go down as the greatest British peacetime Prime Minister."
Work and Pensions Secretary Iain Duncan Smith said Baroness Thatcher was "the reason I came into politics".
He said: "Watching her set out to change Britain for the better in 1979 made me believe there was, at last, real purpose and real leadership in politics once again. She bestrode the political world like a colossus."