Report From The State Republican Executive Committee (SREC) Meeting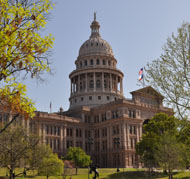 The State Republican Executive Committee (SREC) quarterly meeting is March 26th and March 27th. Most of the meetings are restricted to the public, as elected Republican executives discuss executive matters, but parts are open to the public on Saturday, March 27th. TexasGOPVote sat in on the SREC public meetings to update readers and fans of the process and discussions held in the meeting. The meeting was held at the Republican Party of Texas headquarters in Austin:
Republican Party of Texas Chairman Cathie Adams starts off the meeting, calling it to order and doing roll call. Then she excites everyone by saying, "What are we going to do in November?! Win!"
Jenny Sykes, Grassroots coordinator, then comes to the microphone and explains that we have some important things to talk about today: Texas Democratic Gubernatorial Bill White continues with the Democratic trend of no transparency. There is recent word that Bill White did not report $83,000 in income. Another important topic of discussion Jenny Sykes describes is that more than half of Hispanics refer to themselves as Conservative. She explains that this is very important for the Republican Party to take note of.
Cathie Adams then comes back to the podium and asks if anyone would like to make changes to minutes from the December SREC meeting and if there are any resignations that need to be addressed. Slight changes to the minutes are made and it is determined that there are no new resignations. A committee person then comes to the microphone in the back of the room to ask a question:
Speaker: "Is there a prohibition of a candidate placing literature on the table? …A candidate placed literature on a table and was told not to do so - was the person telling them not to do so mistaken?" he asks.
Cathie Adams: "Yes, candidates may put literature on the table… unless they are a Democrat," she jokes.
Speaker: "I don't think a Democrat would dare show up in this mighty crowd," he laughs.
Cathie Adams moves on to the next item in the agenda. "I have asked Paul Bettencourt, former Harris County Tax Assessor-Collector, to replace the current treasurer of the Republican Party of Texas, who is stepping down." The SREC executive members will either vote on whether Paul Bettencourt is RPT treasurer today or the vote will be postponed. The members line up in the back of the room to voice whether they oppose the postponement, thus wanting to hold the vote today, or whether they are for the postponement and do not want to vote today.
Member for postponement: He explains that Paul Bettencourt is a very busy man, and questions whether he will have the time to be treasurer.
Cathie Adams: "You want a job well done, you give it to a busy man."
Paul Bettencourt: "I am very interested in helping the problem, and this job to me is very important. I have experience as a treasurer… Friday's Dallas Morning News says Rick Perry is on the far right, while Bill White is running the middle. White borrowed $200 million dollars of bond money, stuck it into the Houston general fund, and spent it. I want to do all I can to make sure White does not win the gubernatorial election."
Member against postponement: "I can't think of a better man, I'm tickled to death that Cathie has reached out to Paul. We need to get this taken care of now."
Member for postponement: "I have a concern: we've been asking for the treasurer to become more involved, and now it seems like the old treasurer, who was still new at the job, is gone, and we want more of an opportunity to think about who the treasurer is going to be. I don't question Paul Betancourt, just the process."
Member against postponement: "We need to stop with politicking, vote on treasurer, and move on."
Member for postponement: "Whoever you bring in, there will be a lot of questions, we need to be deliberative about that, it's not 'just politicking.' This is a vote about understanding."
Member against postponement: "If we postpone this vote, Paul Bettencourt will be in the meetings while we are discussing his position. He is an excellent choice and fantastic guy. Get Paul working against White, and let's move on."
Member for postponement: "I have questions on why the past treasurer stepped down. I want to ask these questions in a more intimate setting without the public here."
Member against postponement: "He's excellent, a great choice!"
Member for postponement: "Has Bettencourt even seen the treasurer handbook?"
Cathie Adams: "No, not yet, but I'm confident that a man that has dealt with billions of dollars can deal with millions."
Member against postponement: "I was not aware that this vote might take place today, but I am thrilled! I have worked with him before, and he is tough! He will do a great job!"
Member for postponement: For those of us that are not from Harris County (I am from the Fort Worth area), we are concerned that we do not know enough about him yet."
Question before the vote: "If we vote for Paul Bettencourt now, will we be able to ask the outgoing treasurer questions?"
Cathie Adams: "If there is not objection, then yes." (There is no objection raised.)
The vote proceeds. If Paul Bettencourt's treasurer position is voted on today, he will need 2/3 of the vote to be elected.
The people opposed to postponing the vote versus the people for postponing the vote are counted. The outcome is that the vote will be postponed. Paul Bettencourt's position will not be voted on today.
Cathie Adams introduces Texas Land Commissioner, Jerry Patterson.
Patterson first discusses his upcoming reelection for his current position. "I have one opponent, Hector Uribe (Democrat)," he says. "He has a great sense of humor, but is on the wrong side of all the issues for what Texas needs. When I was asked what I thought of him running against me, I said I should have shot him when I had the chance!" Patterson tells a story of him and Hector Uribe acting in a San Jacinto reenactment battle together. "In the reenactment, Hector surrendered to me. So like I said, I should have shot him when I had the chance," he jokes.
Patterson then talks about the Veterans Land Fund. "We have set a record for service to Texas veterans. For the first time ever, the Veterans Land Fund has given land to veterans, none of this coming from taxpayer money."
Patterson continues on and starts discussing the vote needed in the November elections to get Republicans back in charge. "We have Republicans, Democrats, and then something I call the blob in the middle. The people in the 'blob' are the people we need to win over." Patterson says that the Republican Party must lead in revealing, repealing, and reforming Obamacare. "There are a few good things in the health care reform bill, for example, getting rid of preexisting conditions, which will help level out the playing field, but there are a lot of bad things in the bill."
Jerry Patterson then starts discussing the Latino vote. "When we talk about Tejanos, we should think of the history that brings us together… Think about the 1830s- illegal immigrants were people that looked like me. With the Hispanic population of Texas, we need to think about the things that bring us together, like being proficient in English." Patterson holds up a document from Stephen F. Austin's original colonists. The document is in Spanish. "They knew that if they were going to be able to do business in Texas, they needed to learn the language, which was then Spanish. So today, Hispanics know that if they want to be successful in America, they need to learn English." He goes on to explain that all the Hispanic names (such as Juan Seguin) are listed as natives, and all the Anglo names are listed as immigrants. "All these men that came here to Texas were flawed, but they decided to do the right thing and fight in the Alamo and at San Jacinto. Even though we believe that when you come here, you need to comply with our laws, we are all Texans, and that will help bring together the Republican Party."
Cathie Adams then comes to the microphone. "Thanks for teaching us about the Hispanics in the Party and in Texas," she says. She also reminds us that there were once signs that said "No Irish allowed here." Cathie Adams then introduces Debra Lehrmann, who is in a runoff for Texas Supreme Court Justice, Place 3 against Rick Green.
Lehrmann explains that she is a legal scholar and judges strictly by the Constitution. She says, "Green is an appellate judge, and while I completely respect him for that, he does not have the judicial experience needed." She explains that if Rick Green is the GOP candidate, he will have a tough time beating Democratic candidate, Jim Sharp, who is very experienced. Lehrmann explains that she is both socially and fiscally conservative.
Cathie Adams then introduces Wayne Hamilton, former GOP Executive Director and the head guy behind the upcoming Republican Party of Texas State Convention.
The convention will be at the Dallas Convention Center, June 11th and 12th. The headquarters hotel will be the Dallas Hyatt. Hamilton leads the members in a short and fun game of state convention trivia.
The executive meeting then begins and the public is asked to leave.
Once the executive meeting ends, the public is allowed back in. Committee members who ran in the Republican Primary are recognized as well as those who have done a lot of volunteering to support the Republican Party. The DVDs produced by the RPT are briefly discussed, including one that was just made on ballot integrity. Look for more DVDs to come!
Both the Republican Hispanic National Assembly and the Latino National Republican Coalition have asked to be an auxiliary of the Republican Party of Texas. Auxiliary status of both organizations was voted on, and by unanimous decision (mostly ayes, but a few people did yell si), these two groups now have auxiliary status.
The resolutions voted on in the Republican Primary elections were discussed next. There was a record number of about 1.5 million voters that voted in the Gubernatorial Republican Primary (compared to the 680,000 people that voted in the Democratic Primary), and most of these people went on to cast their opinion regarding the 5 resolutions listed.
#1: Requiring photo ID in order to vote, 92% in favor
#2: Controlling government growth, 91% in favor
#3: Cutting federal income taxes, 93%
#4: Public acknowledgment of God, 95%
#5: Sonogram to be performed when mother is about to undergo an abortion, 69%
Next, the movement for the adoption of the resolution for Attorney General Greg Abbott to fight for our Constitutional rights against the health care reform bill was voted on. The committee agreed to adopt the resolution.
Next, a document handed out to an AP U.S. Government class is discussed. This document is full of liberal bias and is very concerning.