Runoff in CD14 - Felicia Harris Receives Strong Endorsements
An interesting thing happened in the world of Texas politics this week. It is pretty rare for a sitting Congressman to make an endorsement of a candidate for Congress in a contested race in the Republican Primary. In the race for CD14, candidate Felicia Harris has pulled off not one such endorsement, but two! I have been watching this race to replace the retiring Ron Paul in the US House of Representatives with some interest for several months. This announcement caught my attention and should cause you to take notice as well if you live in CD14.
Harris has received the endorsement of Sugarland Congressman Pete Olson (CD22) and Waco Congressman Bill Flores (CD17). Olson serves in Congress on the House Committee on Energy and Power. Flores also has an energy background having served as CEO of Phoenix Exploration Company. Perhaps this explains their belief that Harris is not only the best candidate to represent the Republican Party in the November General Election, but also that they believe she is best suited to represent this energy rich district and will have the best chance of defeating twice defeated FORMER Congressman Nick Lampson.
Congressman Olson is the most recent Republican to defeat Lampson, the other being Congressman Ted Poe (CD2). One can imagine he understands full well what it will take for Harris to be successful. "I was honored to have the support of people from across our area to oust Nick Lampson in 2008 - I know what it takes to beat him," said Congressman Olson. "Felicia's commitment to limited government principles, new American energy development, and a full repeal of Obamacare will give voters a clear choice in the general election - I guarantee she can beat Nick Lampson."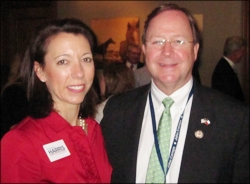 Congressman Flores also defeated an incumbant Democrat, Chet Edwards in the 2010 Repubican sweep to take back the house. Flores stated, "We need more people like Felicia Harris in Congress who will fight for limited government, balanced budgets and serious spending cuts in order to restore America's promise, prosperity and security for our children and grandchildren. I am also proud to endorse her as a fellow Texas Aggie." 
It is clear powerful supporters are lining up behind Harris in her campaign to replace the retiring Ron Paul. If you live in CD14, please take a serious look at her campaign. If you don't, perhaps you can find another way to support her to help keep this a Republican seat.