Cornyn Marks Start of UAV Operations Along Texas-Mexico Border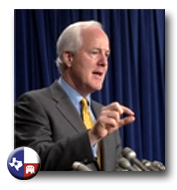 Today I issued the following statement marking the start of Predator B drone flights along the Texas-Mexico border:
This is a step in the right direction. If this Administration is serious about securing our southern border, it will take further tangible steps to demonstrate that commitment to the men and women who live and work along the border.
Texans have had it with speeches and empty promises – we want immediate resources and attention to the growing security crisis along our southern border. I will continue to press the Department of Homeland Security to devote additional Predators to cover the Texas border, and pursue additional ways to achieve real border security.