Cornyn, Warner Bill to Reform Security Classification System Passes Senate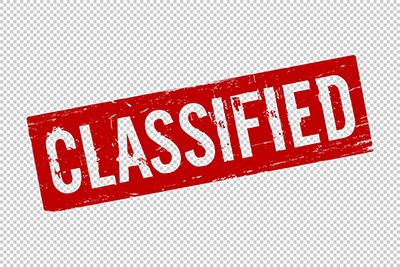 WASHINGTON – U.S. Senator John Cornyn (R-TX) and Senate Select Committee on Intelligence Chairman Mark Warner (D-VA) released the following statements after their Sensible Classification Act of 2023, which would increase accountability and oversight of the classification system, limit overclassification, and direct federal agencies to justify security clearance requirements, passed the Senate as part of the Intelligence Authorization Act included in the National Defense Authorization Act:
"Sensitive information helps the U.S. stay one step ahead of our adversaries, but it's also important for the federal government to be transparent with the American people and our allies," said Sen. Cornyn. "By streamlining and modernizing the declassification process, this bill would help strike the delicate balance between transparency and secrecy, and it is critical it be included in the final defense authorization legislation."
 "The government systematically overclassifies too much information, at a dangerous cost to both the nation's security and the public trust.  At the same time, we too often fail to protect the nation's most important secrets.  As chairman of the Senate Intelligence Committee, I think it is clear that our security classification system is badly in need of change," said Sen. Warner. "Given the explosion in digital records, the status quo is no longer tenable. We've got too many people with access to a system that is devoid of accountability and has grown increasingly byzantine, bureaucratic, and outmoded. We need to protect our national security secrets, and then declassify those secrets when protections are no longer necessary.  I'm glad that Congress is taking some action to establish accountability."
The legislation is also cosponsored by Senators Jerry Moran (R-KS), Ron Wyden (D-OR), Susan Collins (R-ME), Angus King (I-ME), Mike Rounds (R-SD), Martin Heinrich (D-NM), James Lankford (R-OK), and Bob Casey (D-PA).
Background:  
The classification system is in urgent need of reform. Technology has made it easier to classify files, but greater accountability and oversight is needed to ensure appropriate and timely declassification to rebuild trust between the government and the American people. Too many people have access to classified information, which contributes to rampant overclassification and lack of accountability.
The Sensible Classification Act of 2023 will codify classification authority, streamline the processes for declassification, direct training focused on sensible classification, invest in new technology to modernize the classification system, and direct a review regarding the necessity of existing security clearances to identify potential areas for additional reforms. This legislation:
Codifies classification authority as the President, Vice President, head of an agency, or the individual to whom such authority has been delegated in line with current practice pursuant to Executive Order 13526 and specifies how the authority is delegated and the training required to receive it;
Promotes efficient declassification for records under the Freedom of Information Act or Mandatory Declassification Review;
Requires training to promote sensible classification;
Improves the Public Interest Declassification Board (PIDB) by allowing for additional staff to be hired and allowing members to serve until a successor is appointed;
Directs the federal government to develop a federated and integrated technology solution to the issue of classification and declassification;
And directs federal agencies to conduct a study on the necessity of number and types of security clearances with sufficient justification.