Sen. Cornyn Introduces Resolution Celebrating Hispanic Heritage Month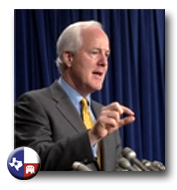 As the nation marks the beginning of Hispanic Heritage Month, I introduced a resolution recognizing the month-long celebration and honoring the heritage, culture and contributions of Hispanic Americans. I joined Sens. Robert Menendez (D-NJ) and Harry Reid (D-NV) in introducing the resolution. According to the US Census Bureau, there are currently over 47 million Hispanic Americans in the United States who represent the fastest growing and largest minority in this country.
Hispanics have made many rich contributions to our culture, both in Texas and across the country, so I take pride in introducing this resolution honoring National Hispanic Heritage Month. In Texas, I am proud to represent the second-largest Hispanic population in the country. Each year, the number of dynamic Hispanic leaders grows – in every area, from business, law and health care to education and the arts. We are a stronger, more prosperous and vibrant nation because of their contributions, and I encourage my colleagues to join us in passing this resolution to pay tribute to the Hispanic Americans who have enriched this country.